1.
An Unequal Couple (Late 17th Century)
This painting depicts age and class inequalities in gender relations and courtship. A well-dressed older man, whose clothing identifies him as a member of the bourgeoisie or landed gentry, chats....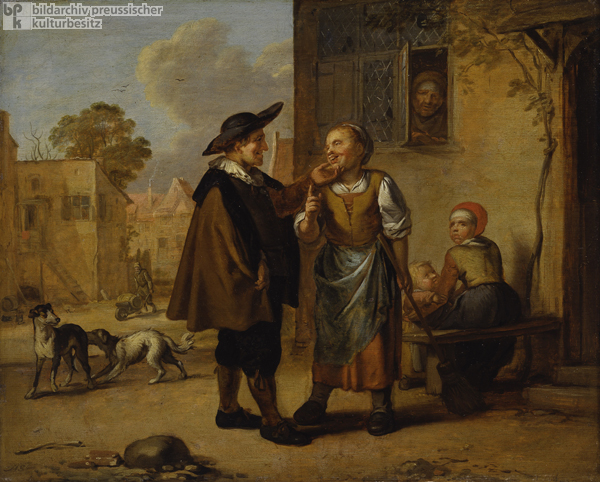 2.
Educating Daughters (1750)
While child-rearing and education for boys made great strides under the influence of the Enlightenment in the eighteenth century, girls continued to be denied a true education. The education of daughters....
3.
Educating Sons (1750)
This engraving shows sons of the propertied classes receiving instruction from private tutors. In pre-industrial Europe education for boys was widespread among the artisan classes, the bourgeoisie,....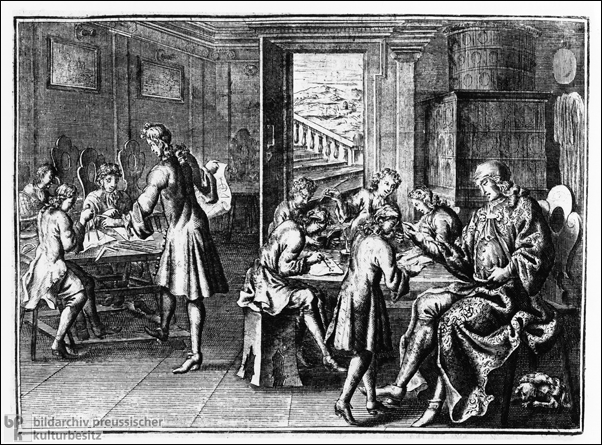 4.
The Sanctity of Marriage (1750)
This engraving shows a noble couple posed before an elaborately ornamented Christian altar against the backdrop of Baroque-era gardens. Two hands extending from clouds in the heavens offer the wedding....
5.
Daniel Nikolaus Chodowiecki, Cabinet d'un Peintre [A Painter's Cabinet](1771)
A versatile and highly prolific copperplate engraver, draftsman, and painter, Daniel Nikolaus Chodowiecki (1726-1801) was the most popular German illustrator of the second half of the eighteenth....
6.
An Industrious Mother and her Daughters Spin Wool (1769-74)
During the eighteenth century, illustrated books dealing with everyday topics such as family life, social conditions, and work became increasingly popular in the German lands. The image reproduced....
7.
The Punishment of Prostitutes in Vienna (1782)
This engraving shows Viennese women being punished for the crime of prostitution. The punishment consists of having their heads shaved and being marched off to sweep the streets. However surprising....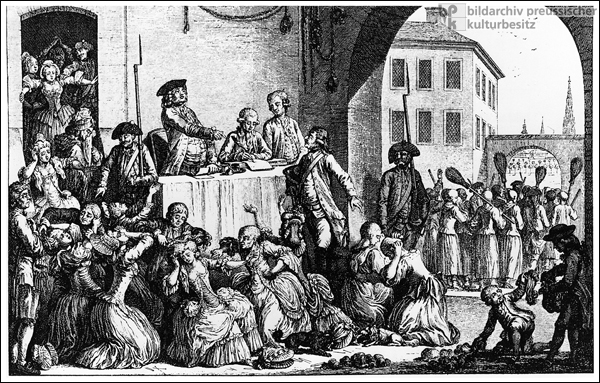 8.
True Happiness (1784)
This scene of blissful family life is consistent with the movement in German literature, art, and music known as Empfindsamkeit (sentimentality or sensitivity), which emphasized emotion, friendship,....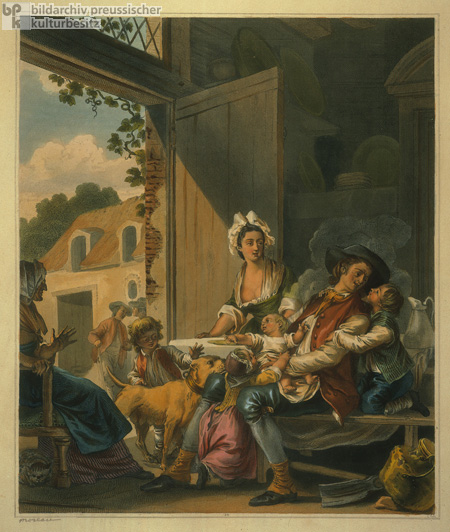 9.
Theodor Gottlieb von Hippel, "On Marriage" (1792)
In the second half of the eighteenth century, the Enlightenment brought forth progressive conceptions of marriage and women's role in society. Author and Königsberg city council president Theodor....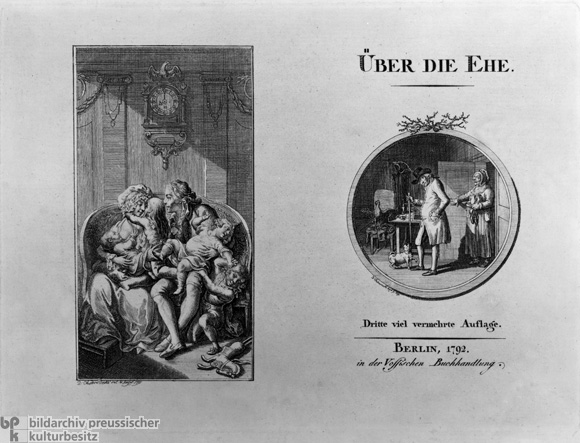 10.
The Comforts of Home (1795)
This illustration from Carl Lang's (1766-1822) Almanach und Taschenbuch für häusliche und gesellschaftliche Freuden [Almanac and Handbook for Domestic and Social Pleasures] (1796) offers....