"We Had Abortions" – Protest against Paragraph 218 (1971)
Below is the cover of the June 6, 1971, issue of Stern, a West German magazine based in Hamburg. The issue appeared on newsstands amidst nation-wide protests against the highly controversial Paragraph 218 of the Basic Law, which, almost without exception, defined abortion as a criminal act. Feminist Alice Schwarzer and the "Frauenaktion 70" ["Women's Action 70"], a group of female activists who championed abortion rights, spearheaded the German initiative to bring the issue to the forefront of public and political debate. A total of 374 women – including celebrities such as actress Romy Schneider – responded to their appeal and publicly admitted (i.e. "pleaded guilty") to having abortions and thus breaking the law.
Paragraph 218 was first introduced into German criminal law under Bismarck in 1871 and remained virtually unaltered until the 1970s. Up to then, abortion was only legally possible for medical reasons. Although the women of "Frauenaktion 70" did not achieve their goal of abolishing the "Abortion Article," their protest was nonetheless an important trigger for future legal reforms: Legislation enacted in the mid-1970s finally allowed pregnant women to assert their right to an abortion on social, ethical, and medical grounds.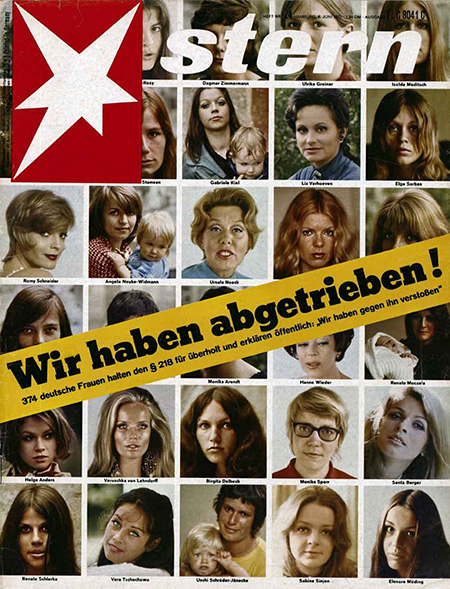 Source: "Wir haben abgetrieben," Stern, June 6, 1971.