Johann Wolfgang von Goethe (1828)
This famous and frequently reproduced portrait shows the poet Johann Wolfgang von Goethe (1749-1832) at the age of 79. It was commissioned by King Ludwig I of Bavaria, whose poem To the Artists, Goethe holds in his hand. Goethe came from a well-to-do background. After completing his studies in law, he held a post as a privy councilor in Weimar. In addition to his professional duties, he devoted himself to literature early on and soon became famous throughout Europe for his epistolary novel The Sorrows of Young Werther (1774). Goethe composed numerous seminal works of poetry, drama, and prose, as well as scientific tracts on botany, zoology, and color theory. In his own day, he was already regarded as a great polymath and the most important German-language poet. Today, works such as his two-volume drama Faust belong to the canon of world literature. Whereas Goethe's early work made him a figurehead for the Sturm und Drang [Storm and Stress] movement, his intellectual exchange with his friend Friedrich Schiller formed the basis of the epoch of Weimar Classicism. Goethe and Schiller are still honored today as German "national poets." Portrait by Joseph Stieler, 1828.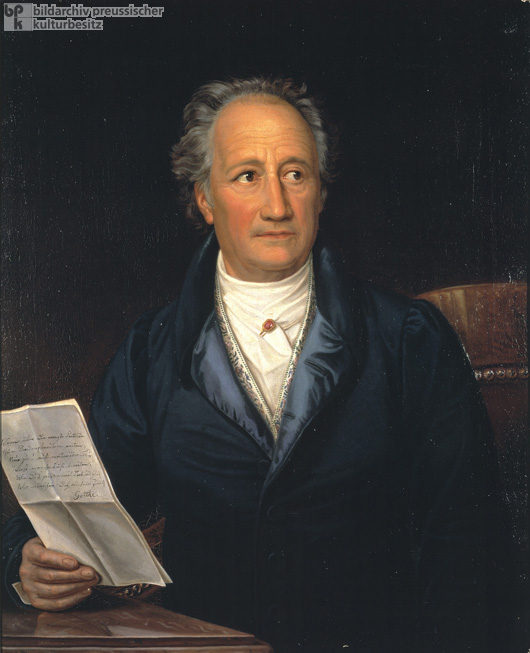 © Bildarchiv Preußischer Kulturbesitz
Original: Staatsbibliothek zu Berlin – Preußischer Kulturbesitz, Mendelssohn-Archiv.