1.
Central Europe on the Eve of the French Revolution (1786)
On the eve of the French Revolution, the Holy Roman Empire of the German Nation was a conglomeration of secular and religious territories that ranged in size from large to tiny. In the west, it extended....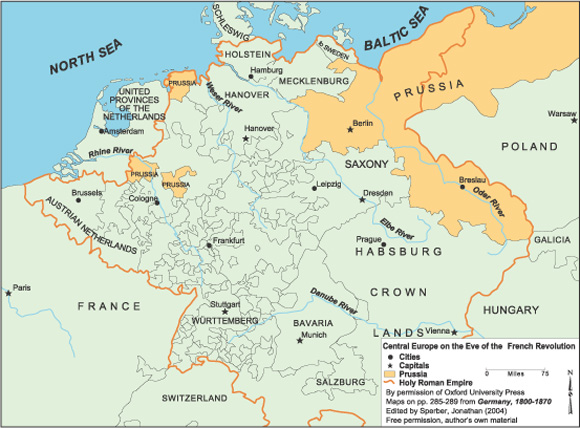 2.
Central Europe at the Height of Napoleonic Power (1812)
Starting in 1792, Europe endured almost permanent warfare, as Revolutionary France, with its changing lines of attack, faced off against the other major powers, the monarchies of Great Britain, Austria,....
3.
Central Europe (1815-1866)
After the end of the Napoleonic reign in Europe, no German national state was created in Central Europe – the sovereignty claims of the princes and the polarity between the Kingdom of Prussia and....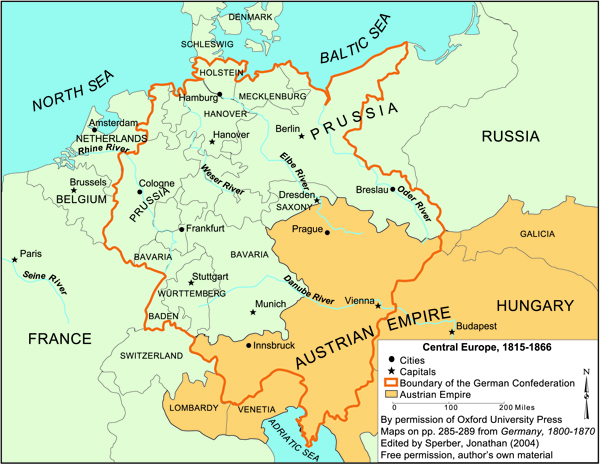 4.
Creation of the German Empire (1866-1871)
German unification proceeded in installments. The Austro-Prussian War of 1866, which might legitimately be labeled a German civil war, resolved the "German Question" by excluding the Habsburg Empire....