Prince Heinrich and Prince Ferdinand at a so-called Tobacco Parliament [Tabakskollegium] c. 1736 (c. 1738-39)
The all-male tobacco parliaments [Tabakskollegien] of Frederick William I (r. 1713-40) had little in common with the convivial smoking parties [Tabagien] of his father and predecessor, Frederick I (r. 1701-13). The "parliaments" were not particularly festive occasions; rather, they simply marked the end of the day-long working sessions that Frederick William I and his ministers held once a week.
In this scene, the king's younger sons, Prince Heinrich (1726-1802) and Prince Ferdinand (1730-1813), interrupt one of their father's tobacco parliaments, perhaps to bid him good night. Painting by Georg Lisiewski (1674-1750), c. 1738-39.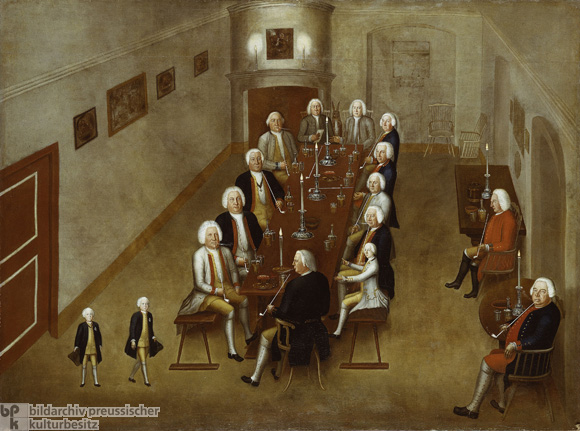 © Bildarchiv Preußischer Kulturbesitz / Stiftung Preußische Schlösser und Gärten
Original: Schloss und Park Königs Wusterhausen, Stiftung Preußische Schlösser und Gärten