1.
Troops Returning from East Africa Parade through Berlin under General Lettow-Vorbeck (March 2, 1919)
A career officer in the Imperial German Army, Paul Emil von Lettow-Vorbeck (1870-1964) was commander of the German East Africa Protectorate Forces [Schutztruppe] during World War I. With his....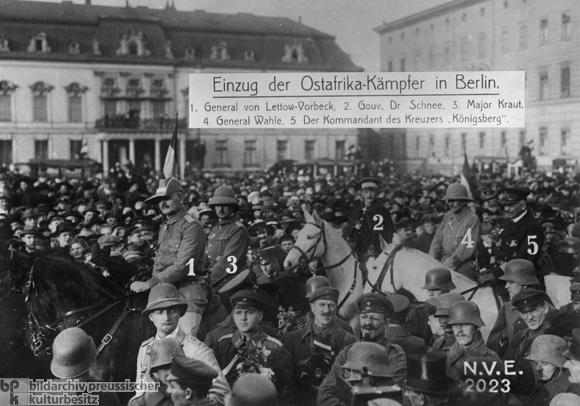 2.
Foreign Minister Walter Rathenau after Signing the Treaty of Rapallo (April 16, 1922)
The Treaty of Rapallo, whereby Germany and Soviet Russia renounced all territorial and financial....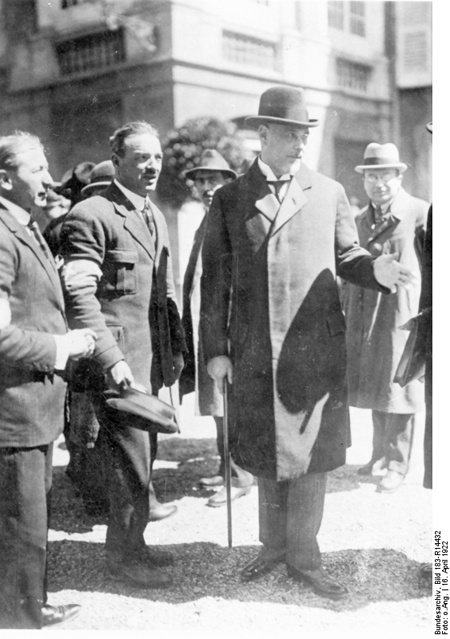 3.
A French Soldier Guards a Freight Yard in the Occupied Ruhr Region (January 1923)
Convinced that Germany was dodging its reparations obligations, France and Belgium sent troops to occupy the Ruhr region, Germany's industrial heartland. There, they seized key assets, including....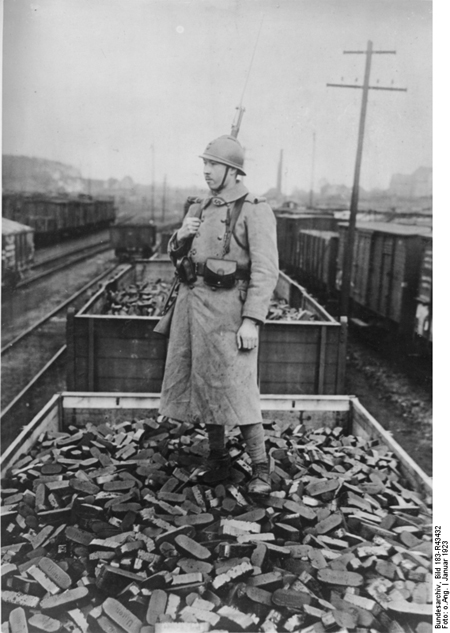 4.
Inspecting a Barge along the Rhine-Herne Canal during the Occupation of the Ruhr Region (February 3, 1923)
With an economy in the grips of hyperinflation and no viable military options, the government of....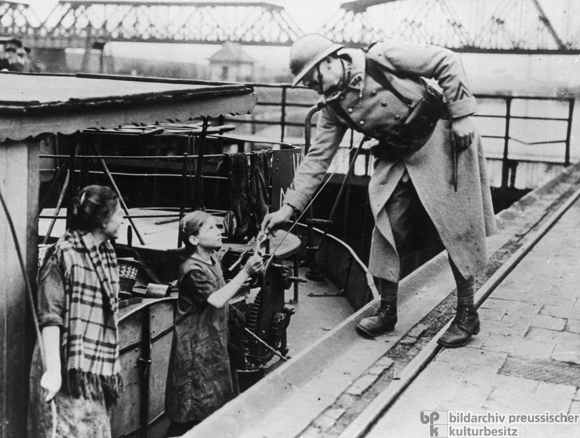 5.
"The Honor Guard," Caricature from Simplicissimus (March 1923)
German anger at the occupation of the Ruhr revived negative stereotypes of the French from the war years. Many anti-French cartoons featured racist caricatures of the colonial African soldiers who....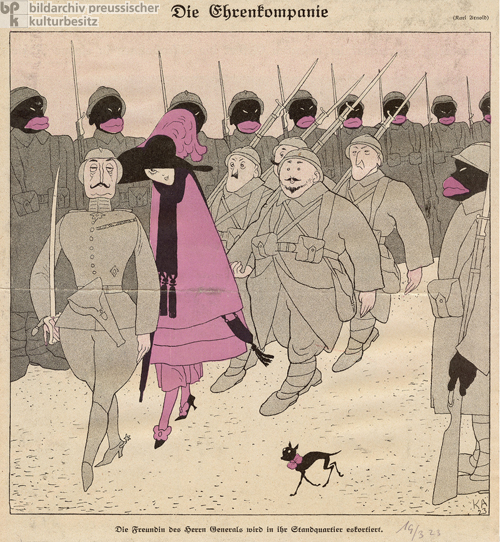 6.
"Justice in the Ruhr Region," Caricature from Simplicissimus (May 1923)
Warned to cooperate with French occupying forces or face judicial proceedings, leading mine directors and industry chiefs from the Ruhr region were arrested by French military authorities and sent....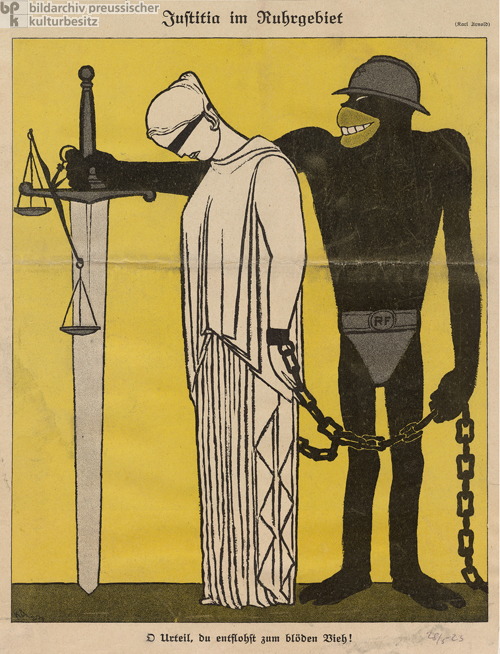 7.
Russian Foreign Minister Chicherin (left) and Russian Ambassador Krestinsky (right) before a Visit to the Foreign Ministry in Berlin (September 1925)
Russian foreign minister Georgy Chicherin (left), who had signed the Treaty of Rapallo normalizing....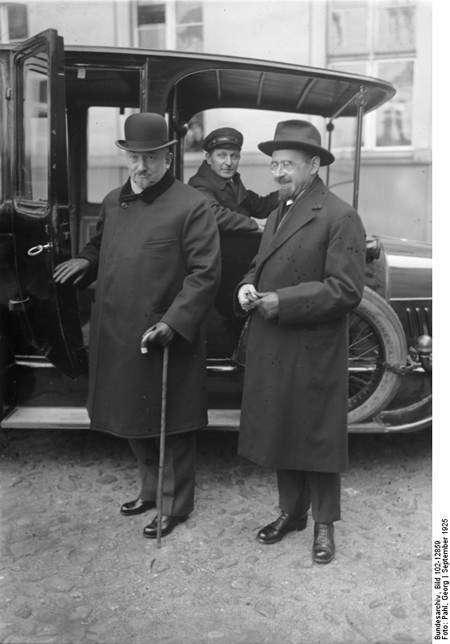 8.
Chancellor Hans Luther and Foreign Minister Gustav Stresemann in Locarno (October 1925)
Relations between Chancellor Hans Luther (1879-1962) and Foreign Minister Gustav Stresemann had been strained prior to their arrival in Locarno in October 1925. The German National People's Party....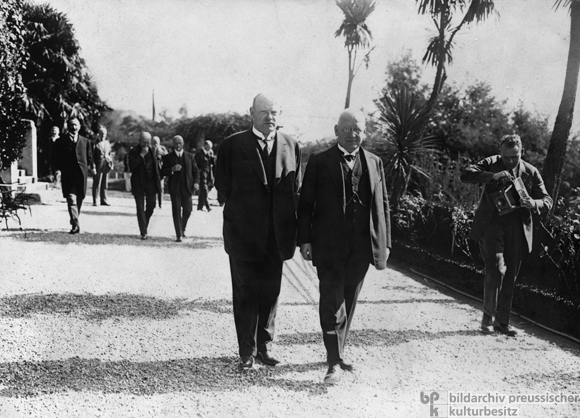 9.
Negotations between Gustav Stresemann, (Joseph) Austen Chamberlain, and Aristide Briand in Locarno (October 1925)
Foreign ministers Gustav Stresemann, (Joseph) Austen Chamberlain, and Aristide Briand each received the Nobel Peace Prize (though in different years) for the agreements they reached in Locarno in....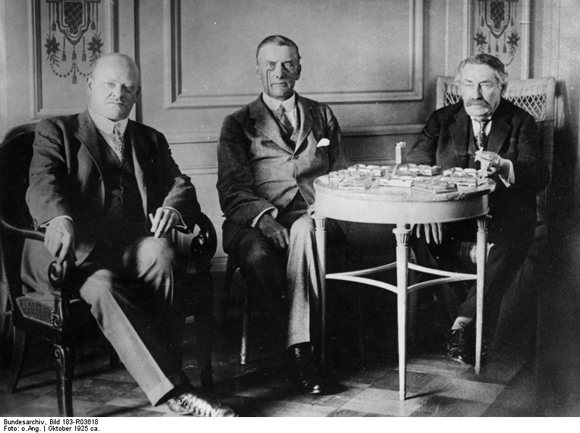 10.
Foreign Minister Gustav Stresemann Addresses the General Assembly of the League of Nations in Geneva (September 10, 1926)
Germany's entry into the League of Nations had been one of the major discussion points at the Locarno treaty negotiations. The main problem regarding Germany's entry into the League was the question....