1.
Butchering a Horse in the Streets of Berlin (1920)
After the end of the war, Germans struggled with severe shortages of both basic life necessitites and the raw materials needed for production. Food rationing, which had been instituted during the....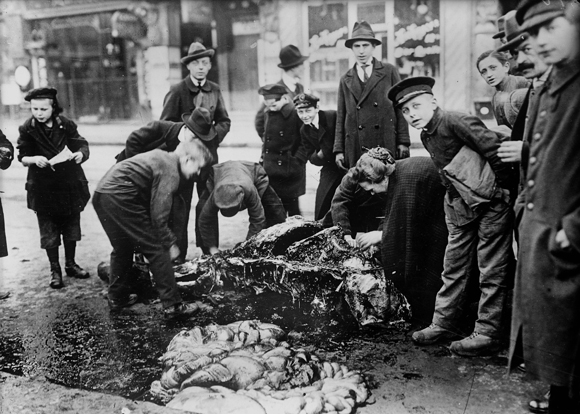 2.
Family Members Share a Single Sausage for Dinner (c. 1920)
Food shortages, which had led to unrest during the war, reached crisis levels in 1919-20 as the various sectors of the state-controlled economy faltered. The transition to free markets led to a sharp....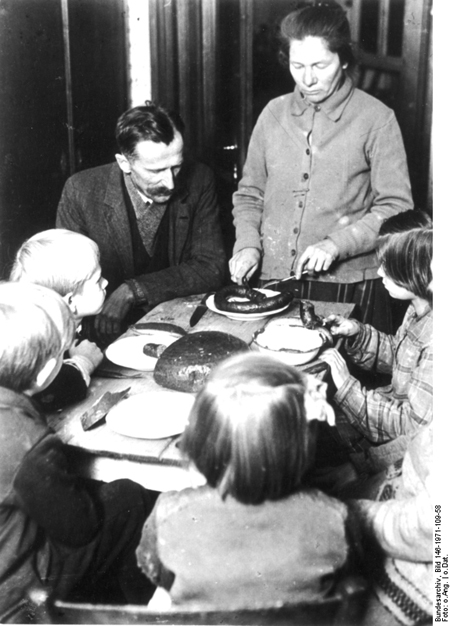 3.
Line Outside of a Berlin Grocer (1923)
As hyperinflation crippled the economy, the living circumstances of large segments of the German population grew increasingly dire. By the autumn of 1923, price escalations had rendered Germany's....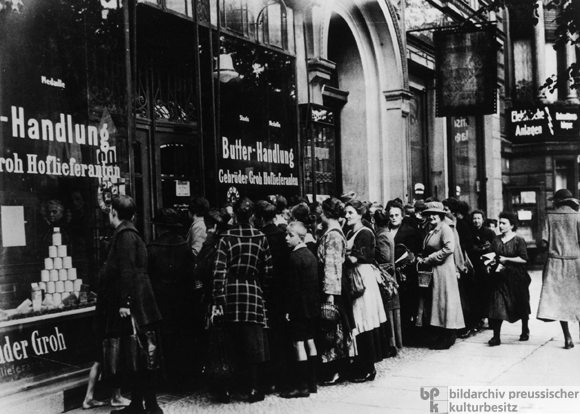 4.
Wallpapering with Worthless Banknotes (1923)
With the onset of hyperinflation in the summer of 1922, Germany's economic situation went from bad to worse. In January 1923, French and Belgian troops occupied the Ruhr in an effort to force Germany....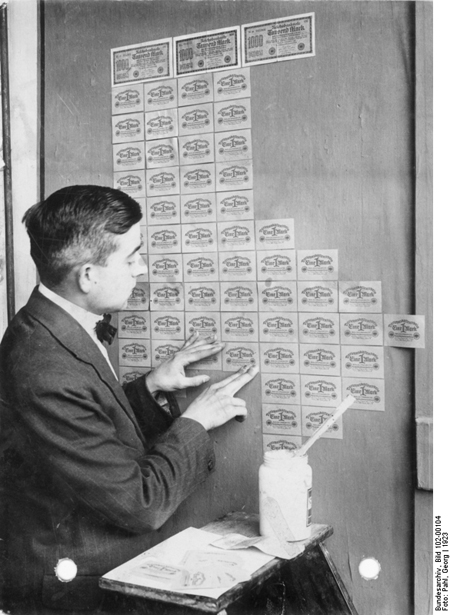 5.
Economically Distressed Middle-Class Pensioners Sell Family Heirlooms at an Exhbition in the Sportpalast in Berlin (1923)
The overall effect of the hyperinflation was not just a decline in living standards but also a severe disruption of the boundaries between social groups. For small pensioners [Kleinrentner]....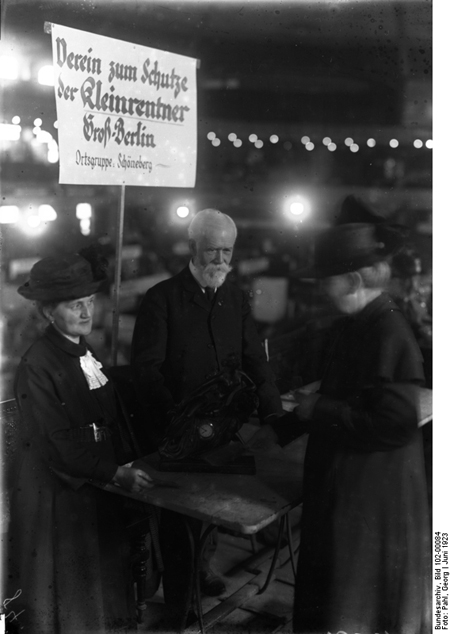 6.
Decorated (Iron Cross) War Veteran Begging on the Street (1923)
Wounded veterans of the Great War – a common sight on the streets of Weimar Germany – were among those hardest hit by the great inflation. Even the money they received from begging became quickly....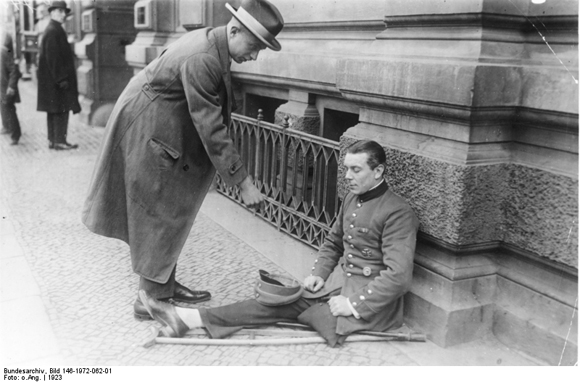 7.
Charles G. Dawes and Owen D. Young in Berlin (1924)
Charles G. Dawes (left) and Owen D. Young (right) traveled to Berlin in 1924 in advance of the publication of their report to the Allied Reparations Commission. In August of that year, the Allies....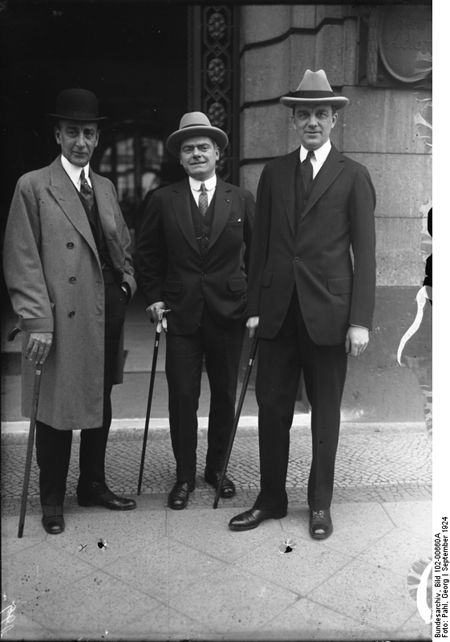 8.
Fun at the Wannsee (1925)
The beaches of Berlin's Wannsee were popular recreation spots that were easily accessible to city residents. The new postwar culture of leisure, sport, and youth was characterized by more casual....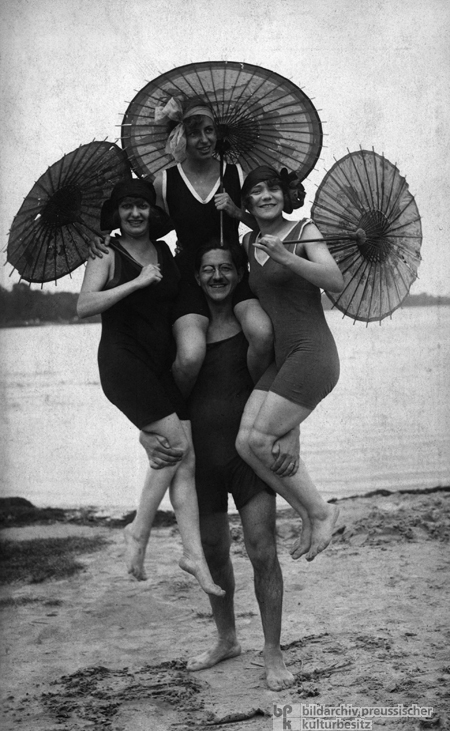 9.
Summer Refreshment for City Dwellers (1925)
"Expect nothing. Today: that is your life" ["Erwarte nichts. Heute: das ist dein Leben"] wrote satirist and social critic Kurt Tucholsky in Die Weltbühne. A combination of grinding pessimism....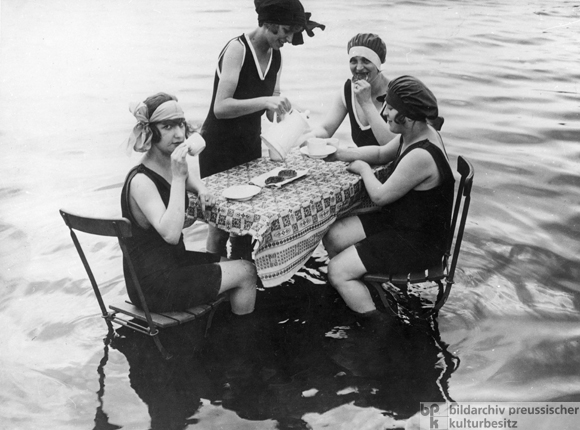 10.
Sign on a Barbershop Announcing Special Prices for the Unemployed (1927)
In July 1927, the Reichstag passed a comprehensive unemployment insurance program. The law provided for benefits for 26 weeks at 25 to 75 percent of the basic wage one had received. The special prices....