The Brüning Cabinet (March 30, 1930)
After the Grand Coalition led by Chancellor Hermann Müller had broken up and Müller had resigned on March 27, 1930, Reich President Hindenburg appointed Heinrich Brüning (1885-1970), chairman of the Zentrum party's parliamentary group, as new Reich Chancellor the following day. Within just two days, Brüning formed a new government, which began work on March 30, 1930. The fact that these events unfolded so quickly and without much debate suggests that the anti-parliamentary and anti-Social Democratic forces that were seeking the overthrow of the democratic system had been working towards this development for quite some time. The cabinet formed by Brüning in accordance with Hindenburg's instructions was a minority government made up of parties representing the bourgeoisie, minus the SPD. Right at the beginning of his term in office, Brüning emphasized that he would enact his policies by means of the emergency decrees provided in Article 48 of the Weimar Constitution, should they find insufficient support in the Reichstag. Within the parties of the bourgeoisie, a drift to the right had been noticeable for some, and now the anti-parliamentarian forces within the government had begun to replace the democratic system with an authoritarian one.
This photo taken the day the new government was formed shows the cabinet ministers. Sitting from left to right: Josef Wirth (Domestic), Hermann Dietrich (Commerce, Vice Chancellor), Chancellor Heinrich Brüning, Julius Curtius (Foreign), Georg Schätzel (Post Office).
Standing from left to right: Gottfried Reinhold Treviranus (Occupied Territories), Martin Schiele (Food and Agriculture), Johann Viktor Bredt (Justice), Adam Stegerwald (Labor), Paul Moldenhauer (Finanzen), Theodor von Guérard (Transportation)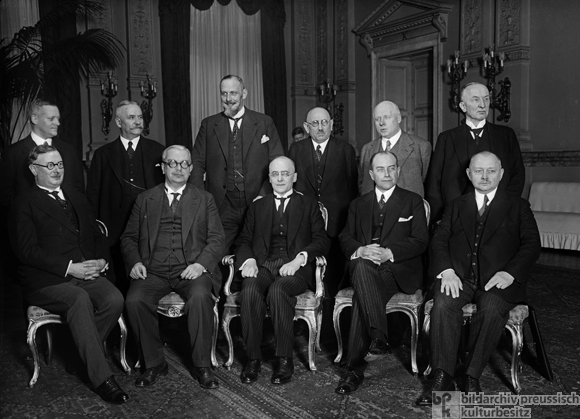 © Bildarchiv Preußischer Kulturbesitz / Kunstbibliothek, SMB, Photothek Willy Römer / Willy Römer