Demolition of the Lenin Memorial in Berlin (November 13, 1991)
After the Lenin statue on Berlin's Lenin Square was removed from the list of protected monuments, its demolition was only a matter of time. The first step came on the morning of November 13, 1991: in a richly symbolic move, the statue's head was removed and carried away. After the remainder was torn down, the statue was broken up into 129 pieces and buried under a mound of sand in Seddiner Heide [Seddin Heath] in Berlin-Köpenick. The heirs to sculptor Nikolai Tomsky asked the Berlin senate to guarantee the monument's safekeeping by protecting it from the elements, thieves, and vandals. The city agreed but was unable to keep its promise. Over the years, parts of the monument suffered damage. In 2005, the SPD/PDS-controlled Berlin Senate proposed a "museum restoration" of the entire monument, but the proposal met with immediate criticism from the CDU and the FDP. As the CDU then explained: "Leftist ideological readings of history belong exactly where the Lenin Memorial is right now – buried deep in the earth." As it turns out, the Union did not have the final word: in July 2009, it was announced that the 3.5 ton head would be exhumed and exhibited at Berlin's Spandau Citadel in the fall of 2012 or spring of 2013.
In the movie Good Bye, Lenin (2003), the removal of a Lenin statue functioned as a symbolic farewell to the GDR.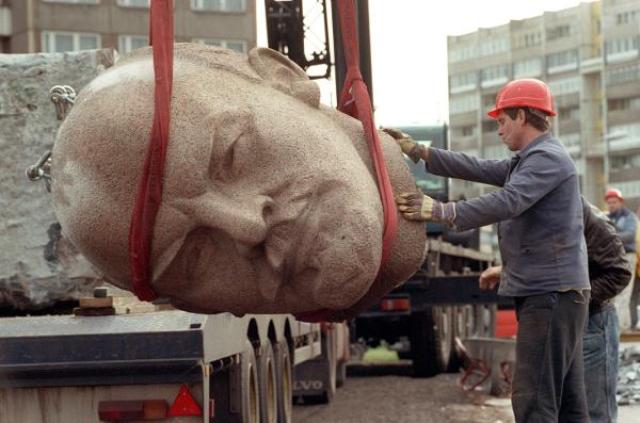 picture-alliance / ZB
(c) ZB – Fotoreport
Foto: Andreas Altwein