"Red Socks": PDS Party Conference (February 2, 1997)
In the Bundestag election campaign of 1994, the CDU launched a poster campaign with the slogans "Off into the future – but not in red socks" and "Future instead of Left Front." The campaign aimed directly at the PDS, the successor party to the SED, and indirectly at the opposition parties, the SPD and the Greens. The impetus for this campaign was the minority government formed by the SPD and the Greens in Saxony-Anhalt in 1994. The PDS tolerated this government, and the CDU posters were supposed to suggest a possible collaboration between the SPD, the Greens, and the PDS on the federal level. Both the "Red Socks" campaign and the marginalization of the PDS were predominantly rejected by the East-CDU, which feared that these moves would prove beneficial rather than detrimental to the PDS. Actually, the PDS explicitly thanked CDU Secretary General Peter Hintze for his "election campaign aid." All in all, the PDS was able to reinterpret the symbol of the "red socks" in a positive way; in the following years, it was even able to use it for its own purposes.
This photo shows PDS chairman Lothar Bisky (right) and chief of the PDS Bundestag group Gregor Gysi (left) during a convention of the party executive committee conference in Thuringia's Elgersburg on February 2, 1997. The two are standing in front of a party poster that recommends wearing "red socks" in case it gets cold in Germany.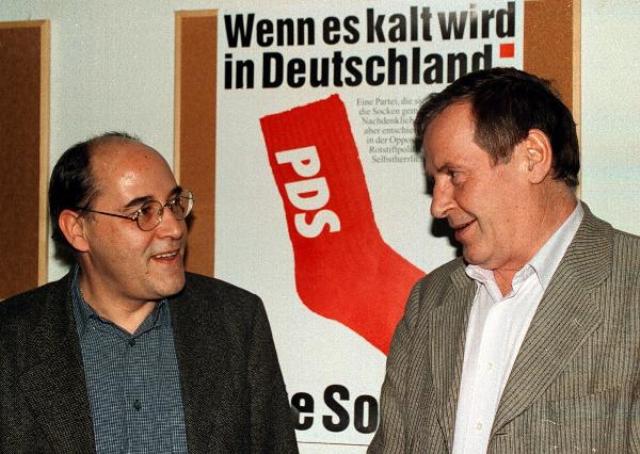 picture-alliance / ZB
(c) ZB – Fotoreport