Construction of the Würzburg Residence of Prince-Bishop Karl von Schönborn (1731)
On his election in 1719, Johann Phillip Franz von Schönborn (r. 1719-24) decided to move the residence of the prince bishops of Würzburg from the Marienberg fortress on the outskirts of the city to the city center. He commissioned architect Johann Balthasar Neumann (1687-1753) to design a new residence and oversee its construction. At the time he was awarded the commission, Neumann was relatively young and little known. He is now regarded as the leading representative of German Baroque architecture, if not the foremost German architect of the 18th century. Neumann completed his design for the 300-room, U-shaped residence in 1719. The building's shell was built between 1720 and 1744; the interior was finished in 1780. Although Neumann was the principal architect, others contributed to the project as well, notably Johann Lucas von Hildebrandt (1668-1745). The Residence's grand stairwell, which is richly decorated with frescoes by the Italian artist Giovanni Battista Tiepolo (1696-1770), constitutes a masterpiece in its own right, and the entire complex is listed as a UNESCO World Heritage Site.
The prince bishops of the powerful Schönborn family were the first to live in the new Würzburg Residence. The drawing below shows Prince-Bishop Karl von Schönborn (r. 1729-46) entering the residence during its construction. Watercolor drawing by Anton Josef Högler (c. 1705-86), 1731.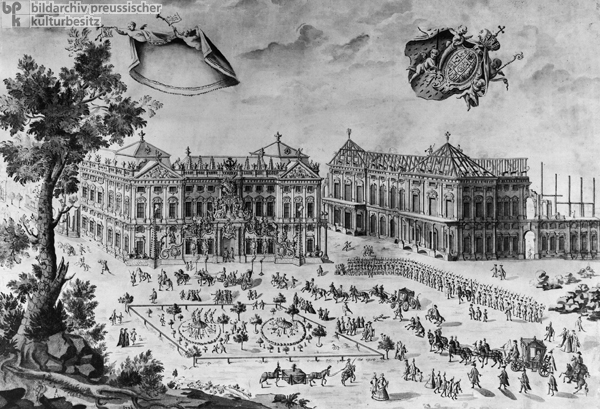 © Bildarchiv Preußischer Kulturbesitz / Kunstbibliothek, SMB
Original: Kunstbibliothek, Staatliche Museen zu Berlin