Row Houses in the Garden City of Hellerau (c. 1910)
The garden city at Dresden-Hellerau was inspired by the ideas of the English social theorist Ebenezer Howard (1850-1928), whose 1898 book Tomorrow: A Peaceful Path to Real Reform (republished in 1902 under the title Garden Cities of Tomorrow, 1902), ranks among the most significant contributions to the field of modern town planning. Distressed by the effects of the Industrial Revolution – overcrowded cities, unhygienic tenement buildings, and the depletion of rural, agricultural districts – Howard envisioned a new kind of community that would combine the best features of city and country. The objective of Howard's garden city was to raise the standard of living of all workers by providing them with "a healthy, natural, and economic combination of town and country life" on land owned by municipalities.
Howard's ideas greatly appealed to the master carpenter and entrepreneur Karl Schmidt (1873-1948), who had founded the Dresdner Werkstätten für Handwerkskunst [Dresden Workshops for Arts and Crafts] in 1898. Ten years later, when Schmidt needed to build a new factory-workshop to accommodate his growing workforce, he decided to found Germany's first garden city at Hellerau. The community, according to Schmidt's conception, would consist of four components: his factory, a section of row-houses, a section for villas and single-family homes, and an area for communal and social facilities. With financial support from the politician Friedrich Naumann, he purchased a 350-acre plot of land to the north of Dresden and appointed a committee of architects to design the city and oversee building, which began in 1909. Schmidt's committee included some of the most notable architects of the day: Richard Riemerschmid (1868-1957), Heinrich Tessenow (1876-1950), and Hermann Muthesius (1861-1927), among others. Schmidt's plans were quickly realized: by 1910, the factory was in full operation, and in July of that year, sixty families were residing in Hellerau. By the end of 1913, 383 dwelling-houses with 407 apartments had been built, and the community boasted a population of approximately 1,900 residents. [See Hans-Jürgen Sarfert, Hellerau: Die Gartenstadt und Künstlerkolonie. Dresden, 1995, p. 25].
In many respects, Hellerau represented an amalgam of older German traditions and modern German reform initiatives. The emphasis on nature and healthy living, for example, was in keeping with the "small garden movement" [Kleingartenbewegung] of the Leipzig physician Daniel Gottlob Moritz Schreber (1808-1861). Schreber gardens, as they later came to be known, were communally-run gardens on the outskirts of cities. They were to provide apartment dwellers with the chance to garden and enjoy the outdoors. The Hellerau community, however, could be viewed not only through the lens of tradition but also modernity. The goal of Schmidt's workshop, for example, was to bring artists and craftsmen together to produce high-quality goods and furniture at affordable prices. He devoted himself to the search for modern forms that suited the nature of the materials from which they were fashioned. In this regard, his enterprise anticipated certain goals of the Bauhaus movement.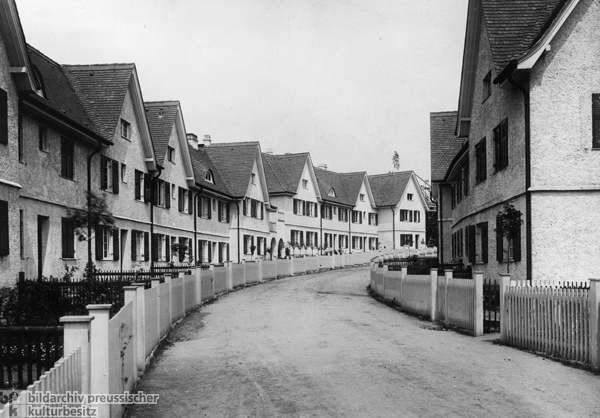 © Bildarchiv Preußischer Kulturbesitz / Kunstbibliothek, SMB
Original: Kunstbibliothek, Staatliche Museen zu Berlin