Fidus, Back to Nature – A Couple (1910)
Rapid industrialization and urbanization in Germany during the nineteenth century radically altered social and economic patterns that had for centuries been based around agriculture and small towns and villages. In response to these sudden changes, some Germans embraced alternative lifestyles that focused on bringing people closer to nature. The Lebensreform (life reform) movement criticized and rejected industrialization and urbanization, promoting vegetarianism, clothing reform to free people from physically constricting fashions, and Freikörperkultur (nudism), among other things. Hiking and nature societies such as the Wandervogel (founded in 1901 in a Berlin suburb) were also part of the Lebensreform movement. Some Germans even chose a spirituality that revered nature and the human spirit over the Judeo-Christian religious tradition under which they had been raised.
The German artist Fidus (born Hugo Höppener, 1868-1948), a devoted follower of the Lebensreform movement, drew this 1910 illustration, entitled "Back to Nature – A Couple." Fidus' art, which drew on the principles of Art Nouveau (Jugendstil) and often reflected his mystical beliefs, served as a direct inspiration for the psychedelic artwork of the 1960s. This image presents a Lebensreform ideal: a young man and woman together, fulfilling their respective roles while working in nature, free from constrictions like clothing and the urban environment. This nineteenth century veneration of nature and the human spirit led some to an affinity for the "blood and soil" (Blut und Boden) ideology adopted by the National Socialists in the twentieth century. Fidus was attracted to Nazism for this reason and became a member of the Nazi party in 1932. Despite his enthusiasm for the Nazi ideology, Fidus was not embraced by party functionaries. The Nazis banned the sale of his work in 1937.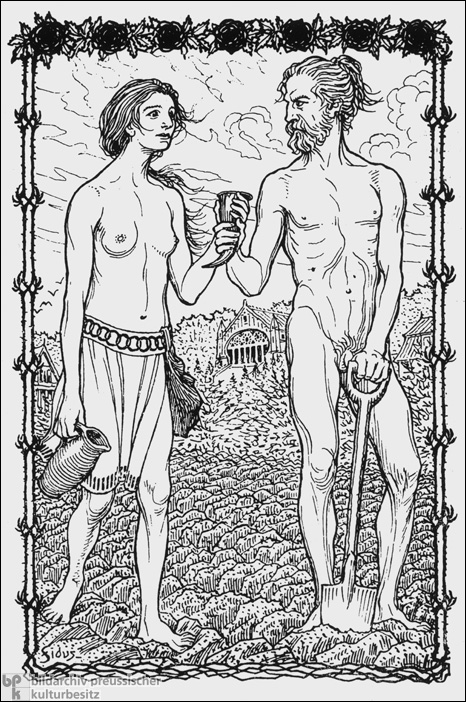 © Bildarchiv Preußischer Kulturbesitz