Ernst Henseler, Tavern Scene [Wirtshausszene] (1877)
Like Ludwig Knaus's The Dissatisfied One [Der Unzufriedene], Ernst Henseler's (b. 1852) Tavern Scene [Wirtshausszene] offers a glimpse into a typical working-class tavern, which, in this case, is also the setting for a political discussion during the Reichstag election campaign of 1877. The election flyer pinned to the wall supports candidates of the Social Democratic Workers' Party. Seated opposite his listeners, the solid-looking Socialist functionary holds a copy of the Volksfreund in his left hand. This apparently provides him with the necessary prompts as he informs the others about the main points of the Social Democratic platform. The painting underscores the importance of taverns as places where Social Democrats could get the message out to audiences that often consisted, as shown here, of a mix of rural and urban, lower-class and middle-class elements – and even those who could cast no ballot (i.e., women and children).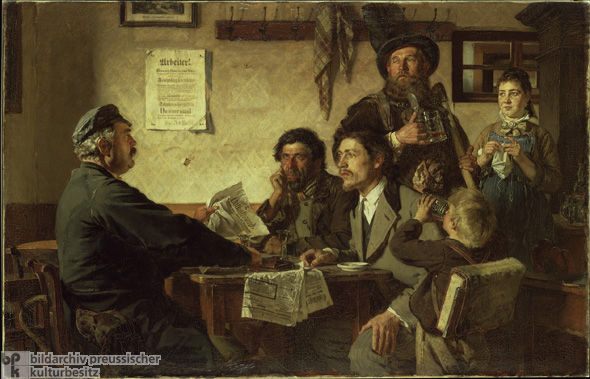 © Bildarchiv Preußischer Kulturbesitz
Original: Darmstadt, Hessisches Landesmuseum. Photo: Lutz Braun.