"'Of One Mind.' (For Once!)" (January 25, 1879)
This cartoon was published in the English satirical journal Punch at a time when Bismarck's Socialist Law had been in effect for barely three months. It suggests that opposition to "socialism, nihilism, and democracy" could provide the common ground upon which Bismarck and the Pope might draw the state's anti-Catholic Kulturkampf [cultural struggle] to a close.
Two captions are printed underneath the image. On the left: "The solution to all the evils for which 'Socialism seeks a revolutionary remedy,' is reconciliation to the Church, which, by ordaining almsgiving of the rich, corrects the poverty of which Socialism is so impatient, and thus reconciles the poor to the wealthy." – The Pope's Encyclical. On the right: "In Germany no pains are being spared to crush out Socialism. Up to the end of the year the number of injunctions issued for this purpose was 457, applying to 189 clubs and societies, 58 periodicals, and 210 non-periodical publications. In addition, 62 persons have been expelled." – German Letter. Source: "'Of One Mind.' (For Once!)," Punch (January 25, 1879).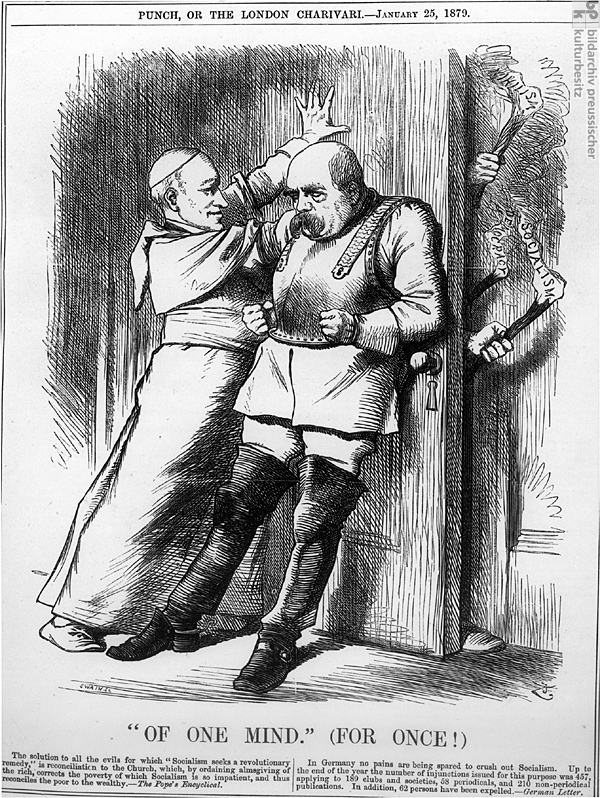 © Bildarchiv Preußischer Kulturbesitz