Demonstration during the Meeting of the Federalism Commission (February 16, 2006)
Taken in front of the Reichstag in Berlin, this photograph shows sixteen young demonstrators tugging on a large Gordian knot – an allusion to the ongoing discussions on federalism reform. Wearing t-shirts bearing the coats of arms of Germany's various federal states, the demonstrators were protesting the blockages inherent in the federal system.
After being approved by the Bundestag and the Bundesrat, "Federalism Reform I" took effect on September 1, 2006. The most comprehensive amendment of the Basic Law to date, "Federalism Reform I" restricted the number of laws requiring Bundesrat approval to about 30 percent. At the same time, it strengthened the powers of the federal states in areas like education. "Federalism Reform II," which restructured the financial relationship between the federal government and the federal states, was approved by the Bundestag and the Bundesrat in May and June 2009. Photo: Bernd Settnik.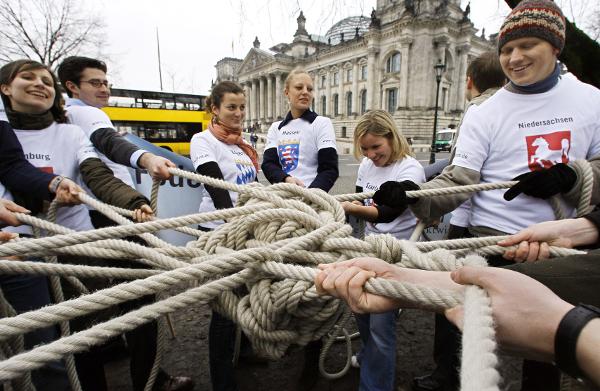 picture-alliance/ dpa/dpaweb
(c) dpa – Report