Princess Louise Henriette of Orange as the Goddess Diana (1643)
Princess Louise Henriette of Orange (1627-67), the daughter of Dutch stadtholder Frederick Henry of Orange, is shown here, at age sixteen, as Diana, the Greek goddess of hunting. Three years later, she married Frederick William (the "Great Elector") of Brandenburg (r. 1640-88). Frederick William, a Calvinist, had spent four years of his youth in the Dutch Republic. It was a formative experience that strengthened his commitment to the Calvinist cause. The House of Brandenburg regarded his marriage to Louise Henriette, also a Calvinist, as beneficial since it carried the promise of Dutch support. Louise Henriette was not the first of her father's children to be wed in a strategic partnership – in 1641, her older brother William II of Orange married Mary Stuart, the eldest daughter of King Charles I of England.
As Electress of Brandenburg, Louise Henriette patronized the arts and supported charitable projects. Oranienburg Castle, north of Berlin, was commissioned by her husband as a gift to her and named after her family dynasty. Painting by Willem van Honthorst (1594-1666), 1643.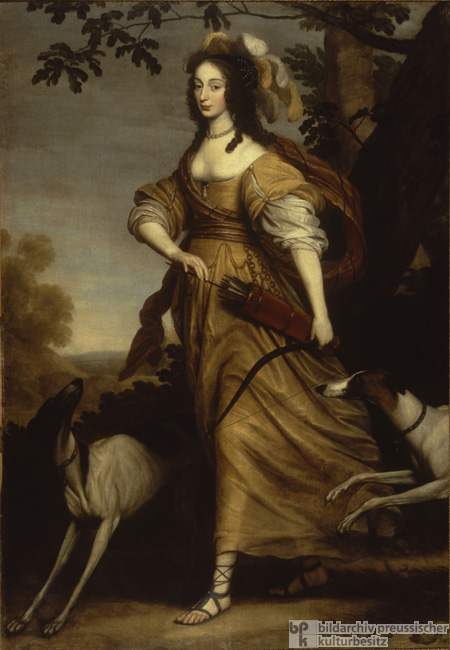 © Bildarchiv Preußischer Kulturbesitz / Hermann Buresch
Original: Utrecht, Centraal Museum