1.
Processing Mercury and Silver (c. 1845)
Woodcut showing the processing of ore from mercury and the purification of silver, c. 1845. As the image suggests, production at that time frequently took place in smaller facilities as opposed to....
2.
Borsig Plant and Foundry (1847)
The Borsig mechanical engineering plant and iron foundry on Chausseestraße in Berlin. The Berlin locomotive manufacturer August Borsig (1804-1854) started from modest beginnings as a tradesman. He....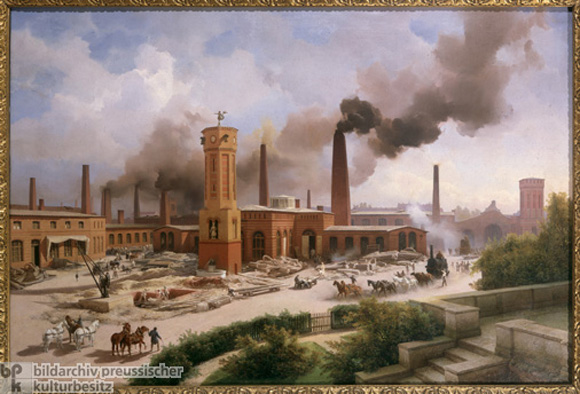 3.
Royal Iron Foundry near Gleiwitz – Rear View (c. 1850)
Austria had only ceded the province of Silesia to Prussia after the First Silesian War in 1742. During the period of industrialization, the town of Gleiwitz (Gliwice) became an important site for....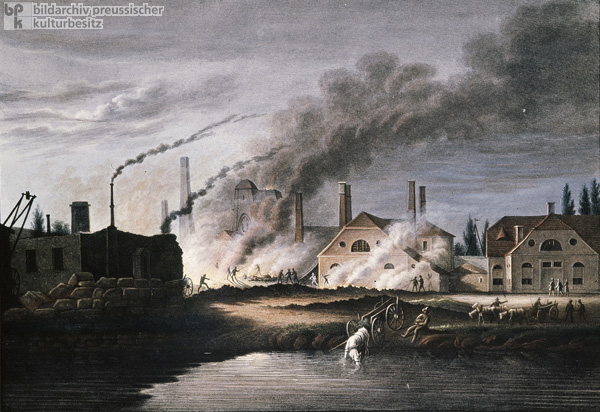 4.
Casting at the Aloishütte Smelting Works (1856)
From the early nineteenth century onward, iron and steel production in smelting plants was an essential....
5.
Coastal Fortification along the North Sea (1862)
Over the course of centuries, the Frisian coast was hit with numerous storm tides, some of which destroyed large tracts of land and caused numerous deaths. Residents of the region have long built....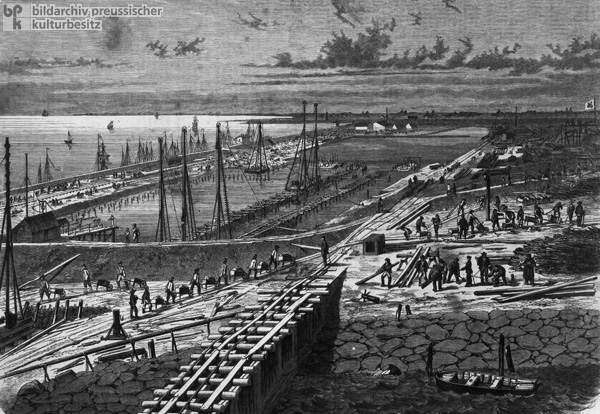 6.
Hoechst Dye Works (1863)
Founded near Frankfurt in 1863, the Hoechst dye works became one of Germany's leading chemical companies during the country's "second industrialization" in the last third of the nineteenth century.....