Josephine Baker Caricature from the Magazine Ulk (November 16, 1928)
Except for the small number of Germans who had settled or visited the colonies before 1918, most Germans had only encountered Africans in the Völkerschauen, the traveling carnival exhibits that took a paternalistic view of black Africans and their "primitive" customs and culture. But when African-American and French colonial soldiers arrived on World War I battlefields, all of that changed, and after the war, the German fascination with blacks was generally accompanied by patronizing and racist attitudes. Josephine Baker, a black American performer whose Revue nègre created a sensation in Berlin and all over Europe, was seen as the embodiment of both an unspoiled, primitive naturalism and urban modernity.
This caricature of Baker appeared in Ulk, a satirical magazine published by Rudolf Mosse from 1872-1933. The caption reads: "I already have Josephine's figure. Now just one of Emil's hysterical fits, until I'm black and blue, and I'll be there."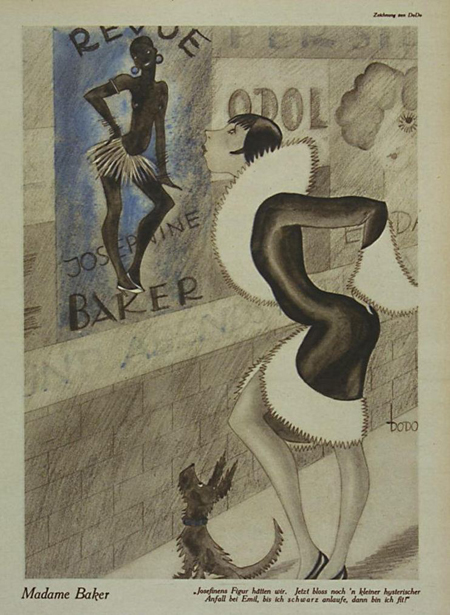 Ulk, no. 46, November 16, 1928.