Liberation from Auschwitz (January 27, 1945)
Following Himmler's orders to obliterate all traces of mass killings, the SS began dismantling the gas chambers in Auschwitz and tearing down its crematoria in late October and early November 1944 (the last crematorium was detonated just before liberation). As the Red Army approached in mid-January 1945, the SS began evacuating the complex, sending around 58,000 prisoners on death marches to the west. Units of the 60th Army of the First Ukrainian Front liberated the concentration camp on January 27, 1945. When entering Auschwitz II (Birkenau), Soviet troops discovered the corpses of 600 prisoners who had been murdered just a few hours earlier. A total of 7,650 prisoners survived. In July 1947, the Polish parliament declared Auschwitz a national monument, and in 1996 Germany made January 27th (the anniversary of the liberation of Auschwitz) the country's official Holocaust memorial day.
The photograph, taken after Red Army units liberated the Auschwitz concentration camp, shows female inmates in their barracks.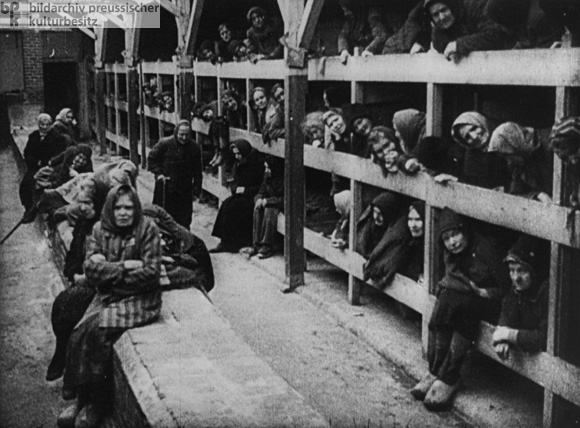 © Bildarchiv Preußischer Kulturbesitz