Matthias Erzberger (Middle) and Two Members of the German Armistice Commission in Belgium (November 1918)
In November 1918, Max von Baden's cabinet appointed Matthias Erzberger (1875-1921) – then an undersecretary of state without portfolio – to head the German delegation charged with concluding an armistice with the Entente Powers. He signed the agreement in this capacity on November 11, 1918. Over the next few months, he served first as armistice commissioner and then as minister without portfolio (responsible for armistice issues). In the National Assembly, Erzberger managed to convince the Catholic Center Party to offer its overwhelming support for the Versailles Treaty, which was by no means a given. From June 1919 to March 1920, he served as Reich Finance Minister. Although he managed to push through fundamental financial and tax reforms, he had to contend with massive and growing right-wing agitation against his person. As the initiator of the Reichstag Peace Resolution, a signatory of the Armistice, an advocate of the Versailles Treaty, and a visible public figure in the Weimar democracy, he was a highly charged negative symbol for right-wing nationalists. On August 26, 1921, Erzberger was assassinated by nationalist extremists.
The photograph shows Matthias Erzberger (center) with General von Hammerstein-Gesmold (left) and Undersecretary Ernst von Langwerth-Simmern (right) in Spa, Belgium.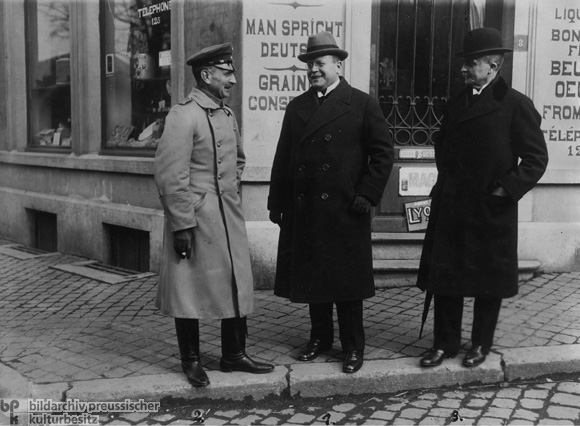 © Bildarchiv Preußischer Kulturbesitz