Broadsheet Depicting an Indulgence Preacher (1530)
This illustrated broadsheet features a fictional interview with a coiner who is asked to explain where all the German money is disappearing to. He names three "enemies" of the Germans' purses: first, the pope and the indulgences sold by his church; second, the merchants who sell foreign luxury goods such as spices, wine, and fine cloth; and third, the constantly changing fashions in dress. Examples of all three "enemies" are depicted in the accompanying woodcut. Indulgences were sold by itinerant preachers all over the German territories and became one of the prime targets of reformers such as Martin Luther. Since this broadsheet was printed in Augsburg, it is quite likely that the criticism of merchants was directed at the city's wealthy Fugger family. The Fuggers had entered the spice trade via the new sea route to India, and they also served as bankers to the pope. Woodcut by Jörg Breu the Elder (c. 1475-1537), 1530.
The title of the image reads: Question to a coiner / what is happening to the money that is being coined every day: reply of the same coiner / there are three enemies of our money/ if we do not watch out/ we will lose both purse and money.
The caption in small print reads: If we had the right faith / God and the common good in mind / honest weights and measurements / public peace and just laws and courts / one currency and no counterfeit money / everything would be well in the world.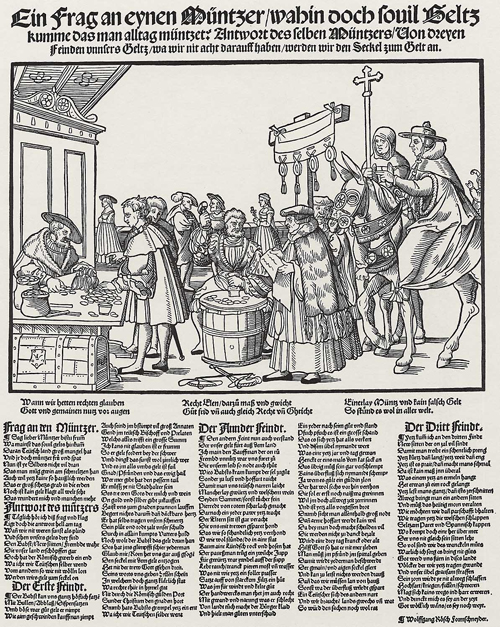 © Directmedia Publishing GmbH, Berlin Germany