Crew Members of Submarine U 50 (March 2, 1940)
Of all the branches of the German military, the navy [Kriegsmarine] was the least prepared for the start of the war in September 1939. Despite intensified rearmament from 1935 on, the German navy was no match for Great Britain's far superior Royal Navy. In addition to securing the Baltic Sea and the coasts of the North Sea, the German navy's main task was cutting off the supply routes of the Allies, mostly Great Britain. The tactics of the German naval command relied heavily on the use of submarines, which ambushed enemy freighters in "packs." After some initial successes, the British Secret Intelligence Service (SIS) managed to crack the German communications code "Enigma" in 1940 and was thus able to learn the positions of German submarines. Together with the Allies' newly developed radar systems, this intelligence information ultimately led to the defeat of the German navy in the Atlantic battle.
Taken in the harbor of Wilhelmshaven, this propaganda photograph shows eight members of the crew of submarine U 50. The men had been decorated with the Iron Cross after returning from the submarine's first mission. One month later, U 50 hit a mine in the North Sea and sank with all 44 crew members on board. Nazi war propaganda often depicted service on a submarine as a heroic adventure, yet the reality was far removed from any romantic notion of seafaring life. The chances of survival for submarine crews were extremely low: more than 30,000 of the approximately 40,000 sailors deployed on German submarines died during the war.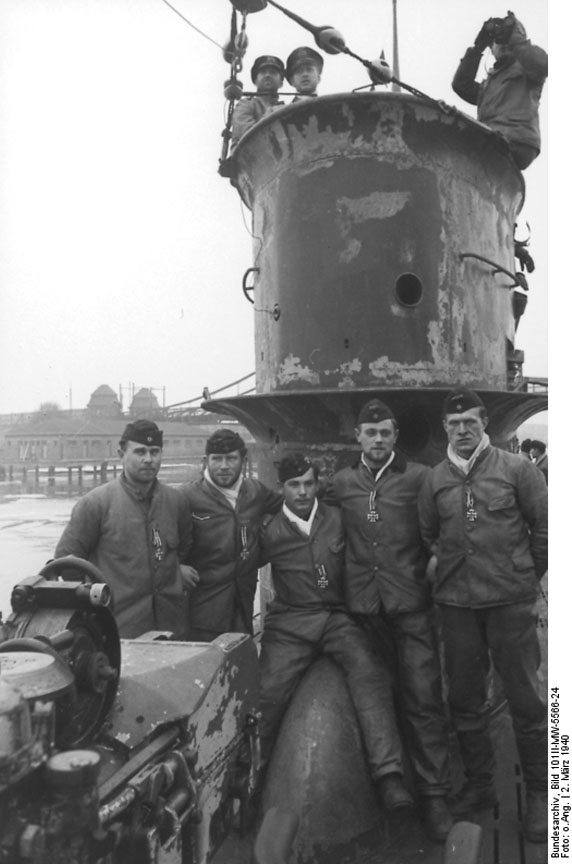 © Bundesarchiv