Poster for Ernst von Wolzogen's "Buntes Theater" ("Überbrettl") (1901)
The Austrian-born editor and writer Ernst von Wolzogen (1855-1934) founded the first German cabaret in Berlin in 1901. Wolzogen modeled his new creation on French cabaret, but strove for a more rarified, literary focus – an intention made clear by his chosen name, "Überbrettl," an ironic play on philosopher Friedrich Nietzsche's concept of the "Übermensch" (roughly translated as "superman"). The Wilhelmine era's strict censorship laws, however, meant that Wolzogen's German cabaret had to make due without the contemporary political satire that was so central to the French original. Having failed to raise sufficient start-up funds, Wolzogen was initially forced rent the rather shabby Secession stage on Berlin's famous Alexanderplatz for his new theater. On opening night, he offered his audience a three-hour mixture of song, dance, and dramatic theater, which met with instant success. At first, Wolzogen also planned to present serious dramatic works, but his audience preferred light, vaudevillian acts. For reasons of economic survival, he quickly succumbed to popular tastes.
This poster was designed by the well-known graphic artist Edmund Edel (1863-1934), who also made the costumes for the "Buntes Theater". Edel also worked as an illustrator for newspapers, such as the Der wahre Jakob, and later wrote screenplays for films.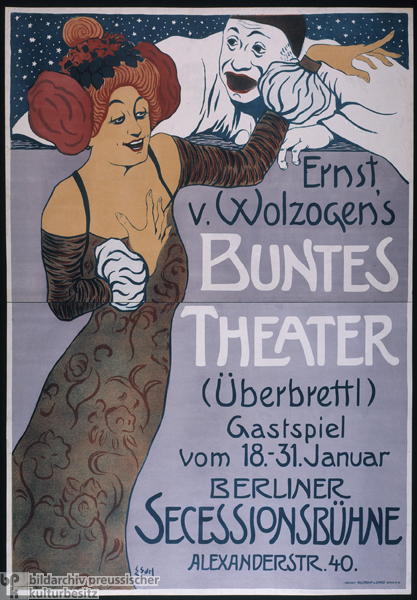 © Bildarchiv Preußischer Kulturbesitz