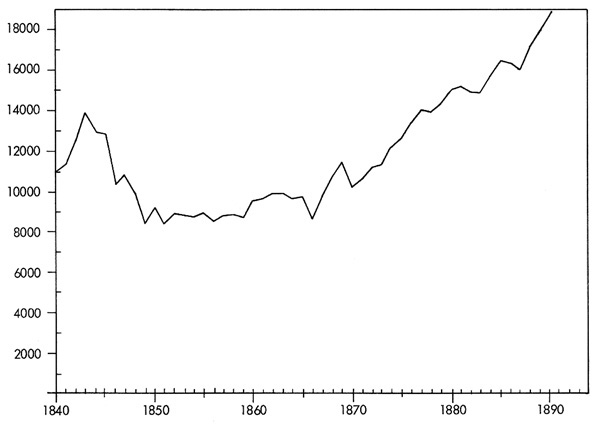 German book production, 1840-1890


Obviously, the book trade experienced a serious slump in sales between 1848 and 1880: Only in 1879 did the level of new publications match and surpass the level already attained back in 1843. Even in the years immediately preceding the Revolution, the decline in production numbers seems to have laid the groundwork for what the events of 1848/49 meant for reading behavior.
[ . . . ]
While the economy in the reactionary period experienced a first "founder's high," the book trade was only able to recover very slowly: Over the entire decade that followed, production hardly increased at all. Authors' royalties and print runs, especially of fiction, were accordingly low. The more rapid expansion of the market during the New Era in Prussia was first halted only by the Austro-Prussian War, which once again proved the susceptibility of book production to crisis, "hurling back the excellent organization of our profession, laboriously developed over decades, to the primitive state of affairs of the previous century." As early as the following "year of the classics" – 1867 – the rise began again, however, and even the war of 1870/71 appears to have impeded it only slightly.
According to the number of published titles, fiction took fourth place among the individual branches for the entire period, amounting to 8-10 percent of the entire book market: In the 1850s, the dominance of theological and devotional literature still remained uncontested – works in this branch accounted for almost one-sixth of all published titles.
[ . . . ]
Between 1865 and 1880 alone, the number of actual book publishers increased from 668 to 1,238. In 1869, there were 99 retail booksellers in Berlin, 88 in Leipzig, 36 in Hamburg, 35 in Vienna, 26 in Breslau, 24 each in Dresden and Prague, 22 in Frankfurt am Main, 20 in Munich, and 19 in Stuttgart. That year, there were 1,515 German retail booksellers overall: of them, 826 (54.5%) were in Prussia, 207 (13.6%) in the Kingdom of Saxony, and 152 (10%) in the Kingdom of Bavaria.