Protesting GM's Refusal to Sell Opel (November 5, 2009)
In 2008-09, the dire financial situation of U.S. car manufacturer General Motors prompted months of high-level discussion about how to save GM's Opel subsidiary (which had been part of GM since 1929). Since the crisis threatened the jobs of 25,000 Opel workers at the company's four German plants in Rüsselsheim (Hesse), Bochum (North Rhine-Westphalia), Eisenach (Thuringia), and Kaiserslautern (Rhineland-Palatinate), the federal government and the minister presidents of these four federal states were involved in the rescue efforts. In May 2009, several investors submitted plans for a takeover of Opel, and a consortium led by the Austrian-Canadian auto parts manufacturer Magna and Russia's Sberbank emerged as the government favorite. Although negotiations between Magna and GM were ostensibly successful, in November 2009 the American group unexpectedly decided not to sell Opel. Later that month, GM Europe announced the elimination of 5,000 German jobs as part of a restructuring.
This photo shows Rainer Sauer of the Left Party demonstrating in front of the Opel plant in Bochum. His sign reads: "To Hell with General Motors: Solidarity with Opel Workers." Photo: Julian Stratenschulte.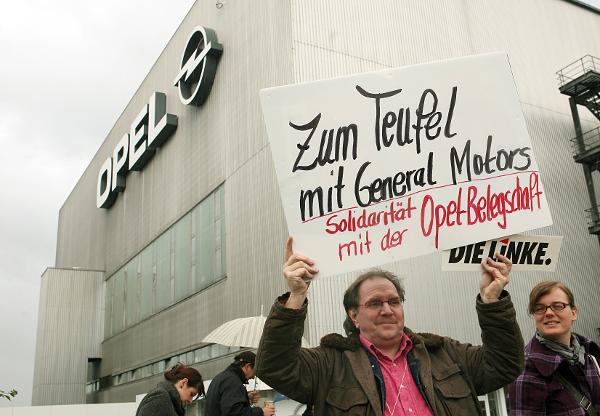 picture-alliance/dpa
(c) dpa-Report