The First German Online Store is Founded in the East German City of Jena (September 21, 1995)
In 1992, Jena physics student Stephan Schambach, together with his colleague Karsten Schneider and Hamburg software entrepreneur Wilfried Beeck, founded NetConsult Computer Systems, Ltd., Jena. In 1995, NetConsult openend the first nationwide online store, which sold approximately 13,000 computer-related products under the name "Intershop." The name was an ironic reference to the GDR-era specialty shops where the Western products that East Germans perceived as luxury items could be purchased with Western currency. More important than the online shop as such, however, was the firm's software, which had been especially developed for e-commerce. Hewlett-Packard became one of the firm's first important partners. The online store quickly expanded and opened branches in Hamburg and San Francisco. When the firm went public in 1998, "Intershop" stock was traded high above its issue price. But the burst of the dot-com bubble did not leave "Intershop" unscathed – after a sharp decline in sales, the stock lost a significant part of its value in 2001. Instead of further expansion, staff had to be reduced. Wilfried Beeck, who had risen to Chief Financial Officer, left the firm in 2002, and founder Stephan Schambach left in 2003.
This photograph shows (from left to right): Peter Conrad, Eugen P. Berg, and Karsten Schneider (from left to right) of the NetConsult Computer Systems, Ltd., of Jena, the "sales staff" of "Intershop" (1995). Photo: Jan-Peter Kasper.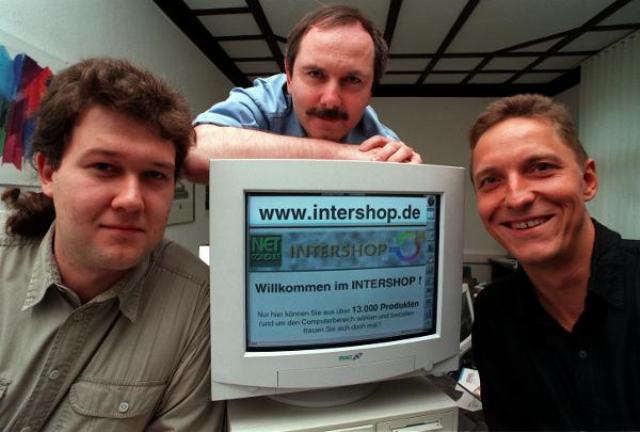 picture-alliance / dpa
(c) dpa – Fotoreport
Photo: Jan-Peter Kasper