The Halle Branch of the Treuhandanstalt [Trusteeship Agency] Completes its Work (September 29, 1992)
On March 1, 1990, the GDR Council of Ministers decided to found an "institution to hold state property in trust." On June 17, 1990, the GDR Volkskammer passed the Treuhandgesetz [Trusteeship Law], which provided the basis for the establishment of the Treuhandanstalt [Trusteeship Agency] on July 16, 1990. This new agency was responsible for privatizing 8,000 nationally-owned enterprises. Under Article 25 of the Unification Treaty of August 31, 1990, the Trusteeship Law continued to apply after accession; at that point, however, the Trusteeship Agency became a direct institution of the Federation subject to public law and was placed under the supervision of the Federal Ministry of Finance.
Fifteen regional branches of the Trusteeship Agency were set up on the territory of the former GDR; branches were located in the former district capitals. They were primarily responsible for the privatization of small and medium-sized firms and could act independently on a regional level. The Trusteeship Agency branch office in Halle (see photo) completed its work at the end of September 1992. Among other things, this branch managed to transfer 575 of the region's approximately 1,000 small and medium-sized firms to private ownership. The process took a devastating toll on jobs: only 70,000 of the original 200,000 jobs remained. Photo: Waltraud Grubitzsch.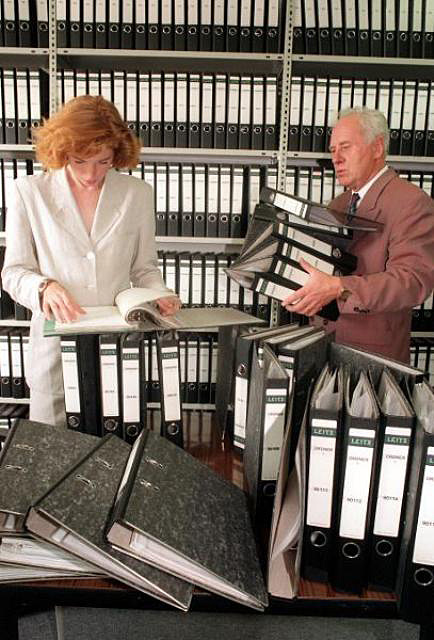 picture-alliance/ZB
(c) ZB-Fotoreport