Theater of the Educational Institution for Rhythmic Gymnastics in the Garden City of Hellerau (c. 1913)
The theater at Hellerau (1910-1913) was designed by Heinrich Tessenow (1876-1950) in the neo-classical style for which he was best known. It housed the "Educational Institute for Rhythmic Gymnastics" founded by the Swiss music pedagogue Emile Jacques-Dalcroze (1865-1950). While in Switzerland, Dalcroze had developed a revolutionary method for teaching music through movement and dance. He called his method "eurythmics." Seeking the full integration of mind and body (note the yin-yang symbol above the theater entrance), Dalcroze used the approach to train musicians as well as actors and dancers. The theater quickly grew into an international center for modern dance, music, and the dramatic arts, giving artistic expression to the founders' ideal of the spiritual as well as physical liberation of the "new man." Hellerau attracted some of the greatest creative minds of Europe at the time. Famed set designer Adolphe Appia (1862-1928) joined Dalcroze at Hellerau – as did the dancers Gret Palucca (1902-1993) and Mary Wigman (1886-1973). Max Reinhardt staged his first theatrical performance there. Many renowned writers and visual artists, such as Oskar Kokoschka, Emil Nolde, Le Corbusier, Hans Poelzig, Rainer Maria Rilke, George Bernard Shaw, Franz Kafka, and Stefan Zweig, attended performances there.
The theater suffered a sad fate in later years: in 1939 it was seized by the Nazis who used it to house a police academy. In 1945, it was seized again, this time by the Soviet Army, which occupied the building until the withdrawal of Soviet troops in 1992. Since then, various public and private groups, both within and beyond Germany, have been working to restore the theater and to recover its original artistic mission.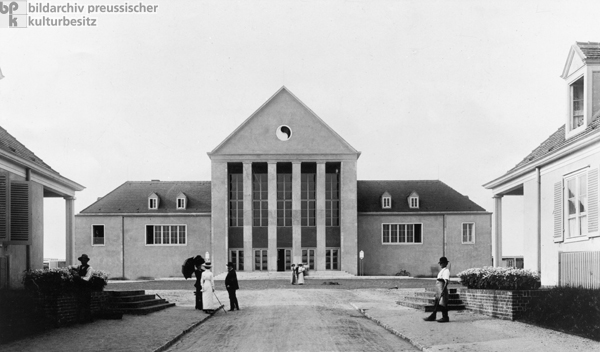 © Bildarchiv Preußischer Kulturbesitz / Kunstbibliothek, SMB
Original: Kunstbibliothek, Staatliche Museen zu Berlin