1.
"World Class for Germany": CDU Campaign Poster (1998)
In the last phase of the federal election campaign in 1998, CDU Secretary General Peter Hintze introduced the slogan "World Class for Germany" and used it....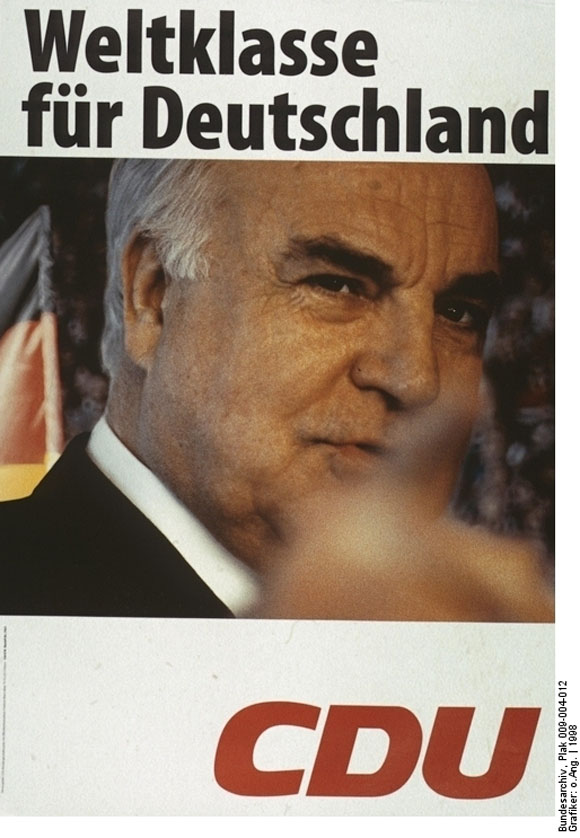 2.
CSU Bundestag Election Poster (1998)
At their Magdeburg party convention in March 1998, Alliance 90/The Greens adopted an election platform that included plans to raise gasoline prices to 5 Deutschmarks a liter over a ten-year period....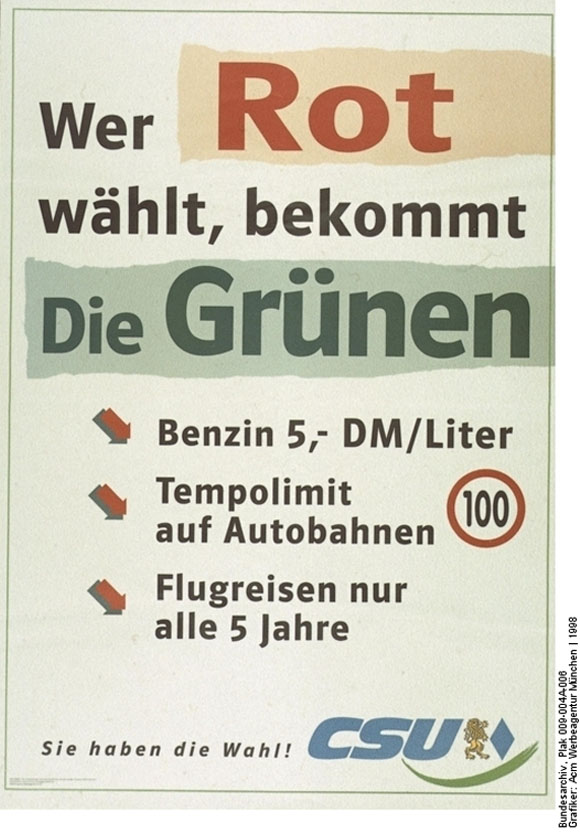 3.
Helmut Kohl on the Campaign Trail (July 29, 1998)
Although the general public had grown weary of Helmut Kohl (CDU) – federal chancellor since 1982 – he persisted in running as the CDU's top candidate in the 1998....
4.
Campaign Posters for Alliance 90/The Greens and the PDS (August 10, 1998)
In the new federal states in the East, the PDS tried to cast off the stigma of being the successor party to the Socialist Unity Party [Sozialistische Einheitspartei Deutschlands or SED], and....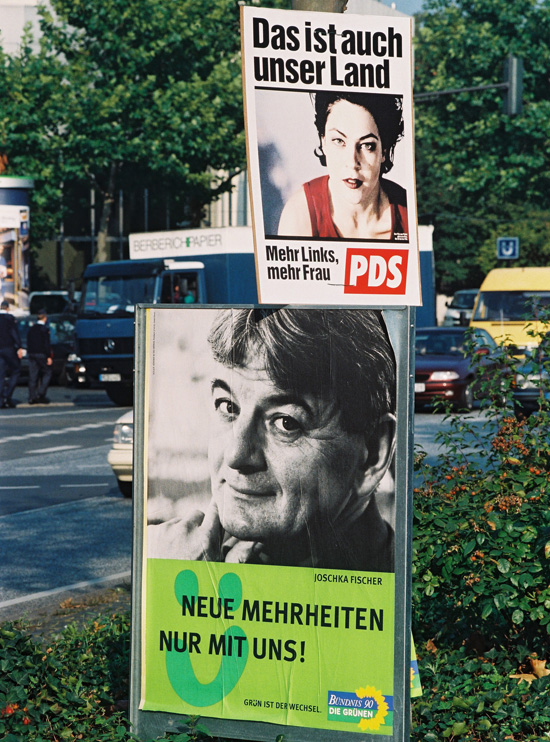 5.
Election Winner Gerhard Schröder (September 27, 1998)
The SPD's 1998 Bundestag campaign has often been described as "American," because the party tailored the campaign to the person of chancellor candidate Gerhard Schröder....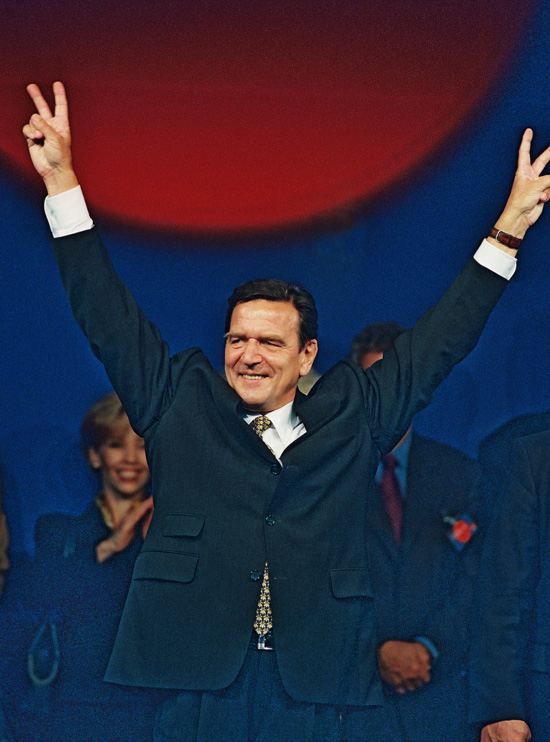 6.
'68ers in Power: Otto Schily, Joschka Fischer, Gerhard Schröder (November 11, 1999)
Otto Schily (b. 1932), Joschka Fischer (b. 1948), and Gerhard Schröder (b. 1944) belong....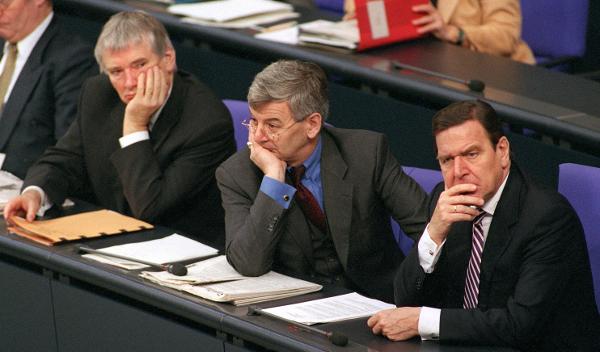 7.
Wolfgang Schäuble during the Bundestag Debate on the CDU Donations Scandal (January 20, 2000)
In November 1999, former CDU treasurer Walter Leisler Kiep, who was under investigation for tax evasion, revealed that the CDU maintained secret accounts that were known to the party's central bodies.....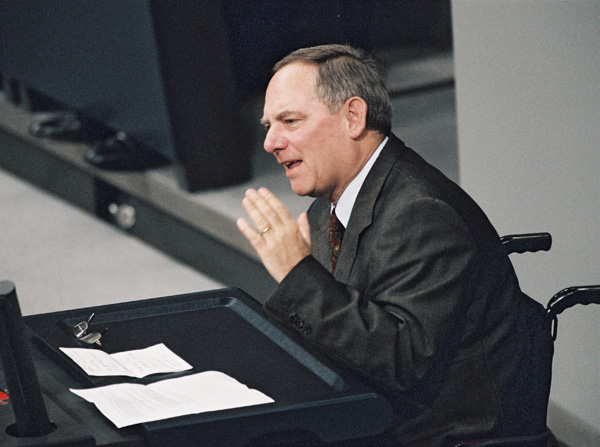 8.
Former Chancellor Helmut Kohl before the Investigatory Committee on the CDU Donations Scandal (June 29, 2000)
Former chancellor Helmut Kohl stubbornly refused to disclose the source of the illegal....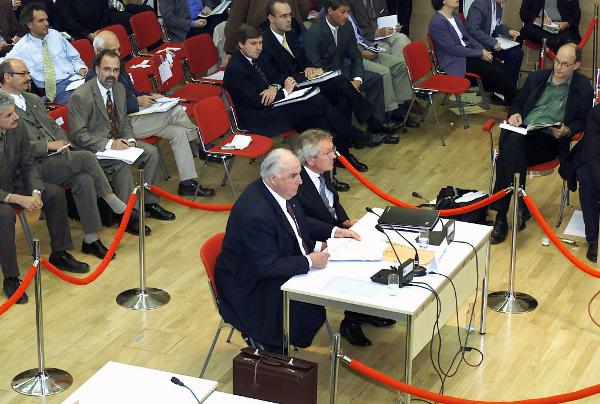 9.
Ballot for the 2002 Bundestag Election (2002)
In the 2002 Bundestag elections, incumbent chancellor Gerhard Schröder (SPD) was challenged by Edmund Stoiber (CSU), minister....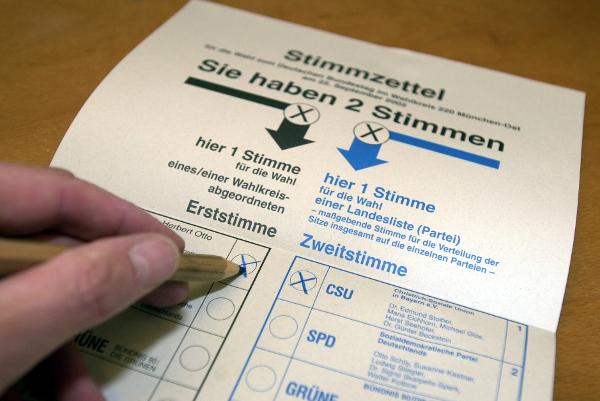 10.
Guido Westerwelle and Cornelia Pieper on the Campaign Trail (July 30, 2002)
After running a campaign that was entirely tailored to its top candidate, Jürgen Möllemann, the FDP captured 9.8 percent of the vote in the elections to North Rhine-Westphalian state parliament [Landtag]....