"Alliance for Germany" Press Conference in Front of the Federal Government's Guest House in West Berlin (February 5, 1990)
The three conservative parties of the German Democratic Republic – Democratic Awakening (DA), the German Social Union (DSU), and the CDU (East) – came together in the "Alliance for Germany" and campaigned jointly for the East German Volkskammer elections on March 18, 1990. The "Alliance" advocated reunification, the social market economy, and the immediate introduction of the Deutschmark.
This picture shows (from left to right): Lothar de Maizière (CDU East), Wolfgang Schnur (Democratic Awakening), and Hans-Wilhelm Ebeling (German Social Union), with Federal Chancellor Helmut Kohl (also party chair of the West German CDU) and Volker Rühe (general secretary of the West German CDU). Photo: Thomas Wattenberg.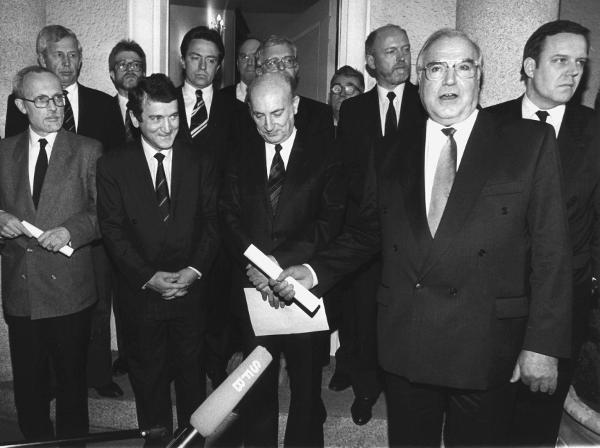 picture-alliance/dpa
(c) dpa-Bildarchiv