Franz Marc (c. 1913); Wassily Kandinsky and Gabriele Münter (1916)
In the spring of 1909, Wassily Kandinsky (1866-1944) became the president of the New Artists' Association of Munich, which he founded along with Gabriele Münter (1877-1962), Adolf Erbslöh (1881-1947), and Alfred Kubin (1877-1959), among others. In 1911, Franz Marc (1880-1916) joined the group as well. When Kandinsky and Marc began to differ with other members of the association on aesthetic grounds, the two quit the organization and founded a new group called Der Blaue Reiter (The Blue Rider). The group included Gabriele Münter, August Macke, Alexej von Jawlensky, Marianne von Werefin, Paul Klee, and others. As a whole, the Blue Rider strove to convey the spiritual in art – although individual group members varied in terms of favored style, approach, and subject. Kandinsky, for example, was given to mathematical-musical abstractions and was strongly influenced by the composer Arnold Schoenberg, whom he counted as a close friend. Münter, with whom Kandinsky was also intimately involved for more than a decade, emphasized vivid color and stylized forms in her landscapes, still-lifes, and portraits. Franz Marc is remembered primarily for his sensitive portrayal of animals – horses, cows, cats, and other creatures executed in brilliant colors, with dream-like imprecision. According to Marc, these works aimed to draw the viewer into the internal, rather than external, world of his subject.
With the outbreak of war in 1914, the Blue Rider was forcibly dissolved. Kandinsky, a Russian national, was repatriated to Russia for the duration, as were other Russian group members. Both Franz Marc and August Macke enlisted and died in battle. (Please note: the picture of Kandinsky and Münter [below, right] was taken in Stockholm in the winter of 1916, thus approximately a year and a half after the group broke up.) Kandinsky eventually returned to Germany in 1921 and worked as a teacher at the Bauhaus until 1933, when the Nazis closed it down.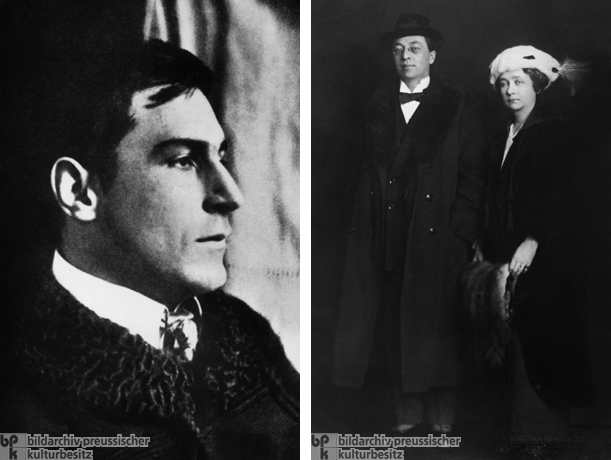 Photo at left © Bildarchiv Preußischer Kulturbesitz
Photo at right © Bildarchiv Preußischer Kulturbesitz / SBB
Handschriftenabteilung, Staatsbibliothek zu Berlin - Preußischer Kulturbesitz