Postcard: Resting in the Trenches (c. 1914)
After French and British forces stopped the German advance at the Battle of the Marne, a "race to the sea" (specifically, to the Belgian North Sea coast) took place from mid-September to early November 1914. In an attempt to encircle their opponents' northern flank, the Supreme Army Command stretched the front line ever thinner. The futile offensive was finally brought to a halt on November 25, 1914, and the long war of attrition began. Until the spring of 1918, little changed along the roughly 485 mile-long (700 kilometer-long) line of trenches stretching from the North Sea to the Swiss border with France.
Alfred Kühlewindt, who took this photograph, was allowed to enter the battlefield as a war photographer in the fall of 1914. Many photographs of the German front line were staged. The new manner of waging war with long-range artillery, not to mention the no-man's-land between opposing trench lines, made photographing battle scenes very difficult. As a result, photographs of still scenes (where exposure times were not an issue) circulated in far higher numbers than shots of active combat.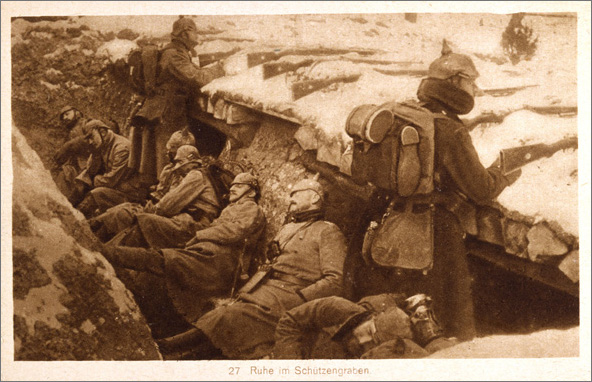 © Deutsches Historisches Museum