Food Rationing (1917)
During the war, the German government rationed foodstuffs, issuing ration cards for certain goods, such as bread. The ration card below, issued by the Municipal Food Office of Munich, assigns Mrs. Katharina Guttmann 100 g. (3.5 oz.) of white bread per day. Despite attempts to develop an effective ration system, a black market flourished in response to the needs of the German population. As the war continued, Germans became increasingly dissatisfied with shortages and the declining quality of foodstuffs.
The ration card below reads: "Mrs. Katharina Guttmann; Promenade Platz 5; is to receive daily until May 27, 1917: /kg. 100. g. white bread (rolls) in exchange for bread-ration stamps at the Bakery of Karl Linder, Gärten Platz 2, Telephone 22 5 90. Munich, March 22, 1917. Municipal Food Office of Munich. I.A."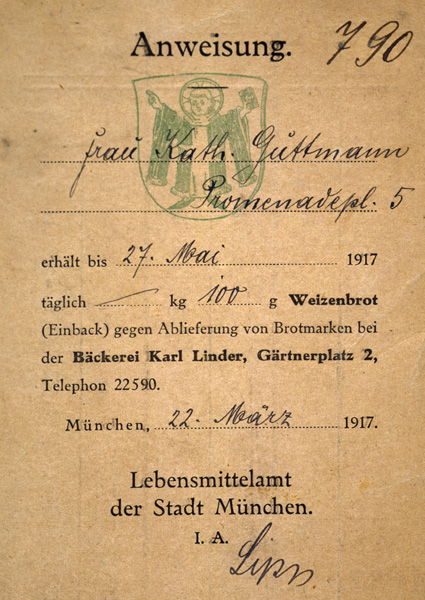 © Deutsches Historisches Museum