Seesawing in Rubble (1946)
At the end of the war, large sections of "the Reich capital of Berlin" lay in ruins. The government quarter, the scene of heavy fighting up to the bitter end, suffered particular damage and was largely destroyed. For the children who remained in Berlin (and in many other German cities), devastated urban landscapes were exciting and dangerous playgrounds for adventure. The boys shown below are seesawing in front of the ruins of the Reich Chancellery on Wilhelmstraße.
The ruins of the capital were also used for political purposes: for example, the Socialist Unity Party of Germany [Sozialistische Einheitspartei Deutschlands or SED], relied upon the symbolism of the ruins to advertise their "anti-Fascist" and "anti-imperialist" policies. The slogan on the destroyed Chancellery reads, "Never again – therefore SED." Photographer unknown.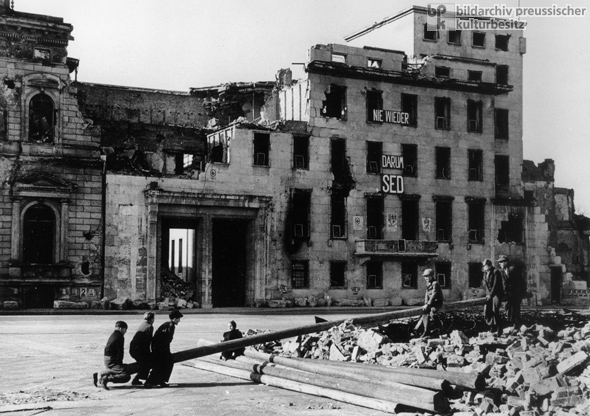 © Bildarchiv Preußischer Kulturbesitz