1.
Moritz Steinschneider (n.d.)
Often referred to as the "father of Jewish bibliography," Moritz Steinschneider was the first....
2.
Jewish Hiking and Gym Club G.G.V. Gröpitzburg (1919)
Like the German youth movement [deutsche Jugendbewegung] which appeared at the end of the nineteenth century, the Jewish youth movement [jüdische Jugendbewegung] comprised numerous....
3.
Mosse Residence Schenkendorf (n.d.)
Berlin publishing magnate Rudolf Mosse (1843-1920) bought the rural estate [Rittergut] of Schenkendorf....
4.
Portrait of Franz Rosenzweig (1926)
Franz Rosenzweig was a historian and philosopher whose most famous work, Der Stern der Erlösung [The Star of Redemption], was a synthesis of philosophy and theology that he named the....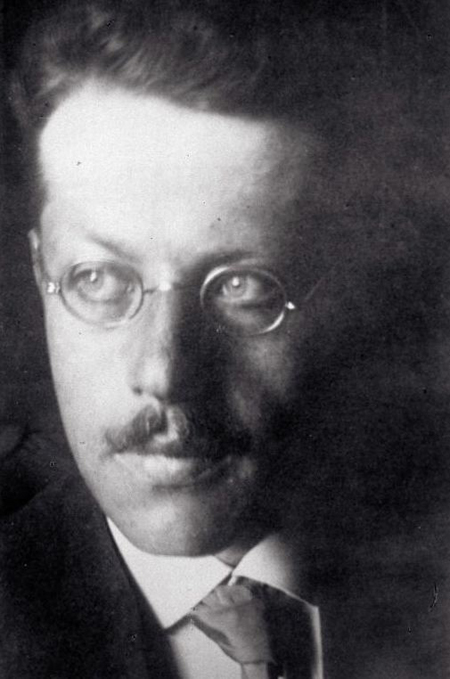 5.
Hans Kohn and Robert Weltsch in Berlin (September 1926)
Hans Kohn (1891-1971), a leading historian and scholar of modern nationalism, was a close friend of Robert Weltsch (1891-1982), co-founder of the Zionist student group, Bar-Kochba, and editor-in-chief....
6.
Special Edition of Der Jude in Honor of Martin Buber's Fiftieth Birthday (1928)
Der Jude was co-founded in 1916 by Martin Buber and Salman Schocken as a monthly review of....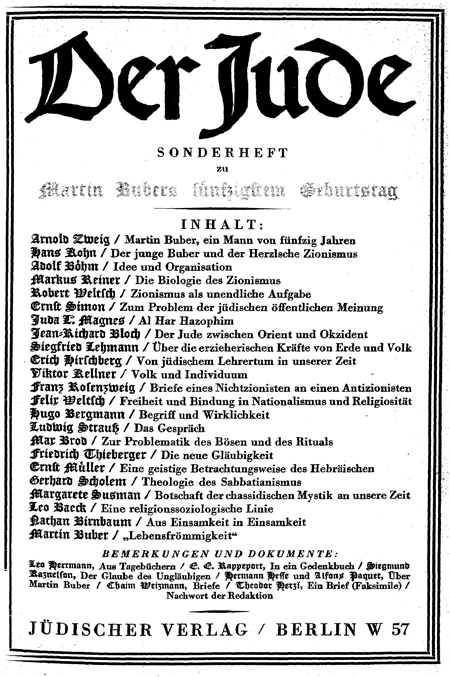 7.
Jakob Wassermann (c. 1928); Title Page of his Autobiography My Path as German and Jew [Mein Weg als Deutscher und Jude] (1921)
Jakob Wassermann (1873-1934), was a writer, essayist, and theater critic who enjoyed both popular and critical acclaim. His circle of literary friendships included Arthur Schnitzler, Hugo von Hofmannsthal,....
8.
Interior View of the New Hanover Synagogue (n.d.)
Designed in 1870 by Edwin Oppler, the Hannover Synagogue was part Rhenish Romantic cathedral and part Parisian neo-Romanesque church; it was the first large, free-standing synagogue in Germany. It....
9.
Leo Baeck with his Wife Natalie on Vacation in the Ore Mountains [Erzgebirge] (1930)
Leo Baeck (1873-1956) was a prominent scholar and rabbi who served congregations in Oppeln, Düsseldorf, and Berlin, where he also taught at the Higher Institute for Jewish Studies [Hochschule....
10.
The Bar Kochba Berlin Team At The German Maccabee Championship Games in Hamburg (June 1930)
The formation of Jewish sports and gymnastics clubs in Germany at the turn of the twentieth century reflected both the political and cultural Zionism that sought to counter assimilationist tendencies,....