41.
Reich Minister of Health Dr. Leonardo Conti Speaks with Hitler's Personal Physician, Dr. Karl Brandt (August 1942)
From 1939 on, the Nazi regime pursued the goal of "racial enhancement" through the systematic destruction of individuals who were supposedly "inferior" and "unworthy of life." Children with incurable....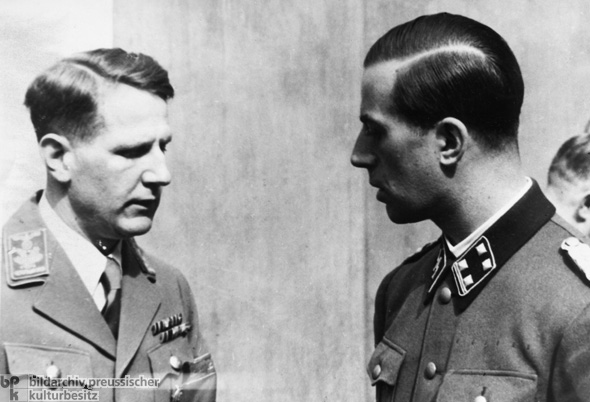 42.
Children from the Lodz Ghetto are Transported to the Chelmno Death Camp (September 1942)
In September 1942, a large number of people were deported from the Lodz (Litzmannstadt) ghetto to....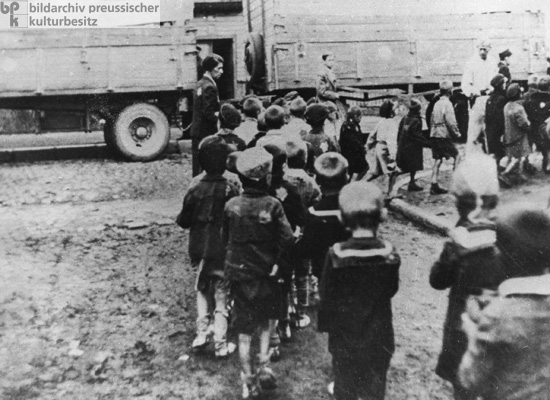 43.
Deportation to Theresienstadt: Air Mail Communication Sent through the Foreign Service of the German Red Cross (September 15, 1942)
In this air mail communication from September 15, 1942, Max Jacobson, a Jewish resident of Leipzig, informs his daughter and son-in-law in New York City of his "departure" for Theresienstadt. Apparently,....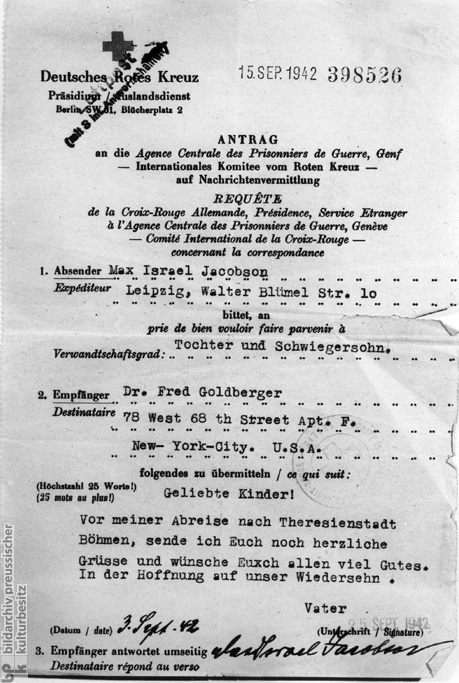 44.
Mass Execution of Lithuanian Jews by Members of the Wehrmacht and the Lithuanian Self-Protection Unit [Selbstschutz] (1942)
The war of annihilation carried out in the conquered territories of the East by mobile killing....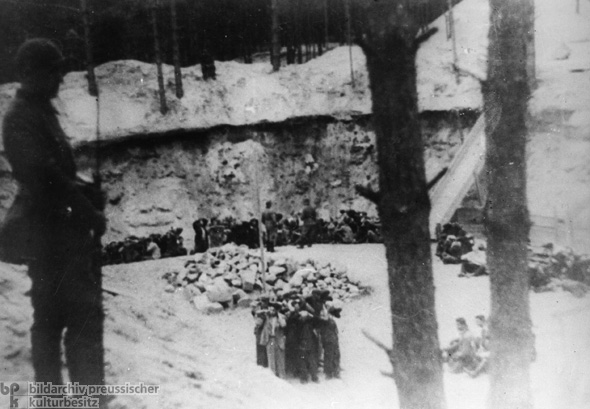 45.
Hungarian Jews Arrive at Auschwitz II-Birkenau (May/June 1944)
Over the course of the 1930s, the conservative-nationalist government of Admiral Miklós Hothy (1863-1957) came under the growing influence of the Nazi regime and the position of Hungary's approximately....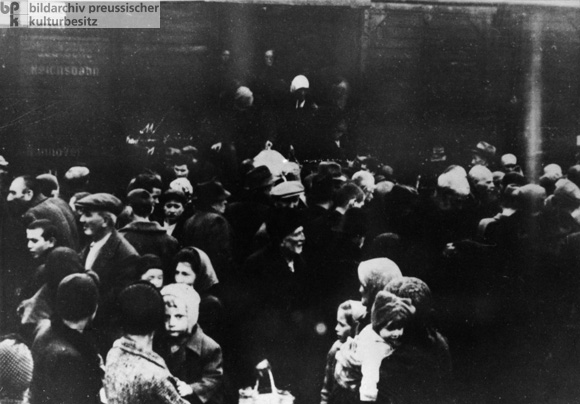 46.
Hungarian Jews Wait in a Clearing before being led to the Gas Chambers at Auschwitz II-Birkenau (May/June, 1944)
After the Germans occupied Hungary on March 19, 1944, the newly installed collaborationist regime demanded that the country's Jews be rounded up and handed over. In mid-May 1944, the Hungarian authorities,....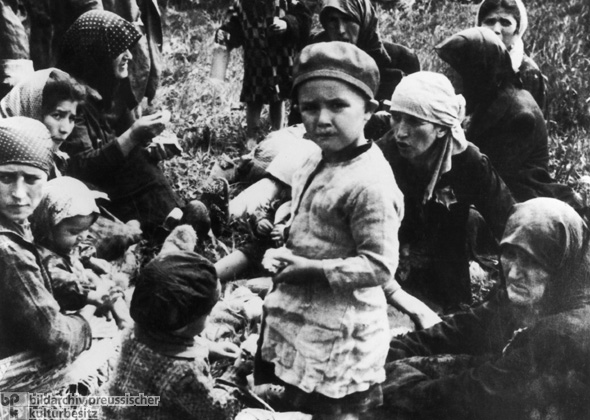 47.
American Aerial Photo of the Auschwitz-Birkenau Camp Complex (Women's Camp on the Left) (August 25, 1944)
Auschwitz, which is near the Polish city of Oswiecim, was the Nazi regime's largest camp complex. It consisted of three main camps and about forty secondary camps. The main camp (Auschwitz I) was....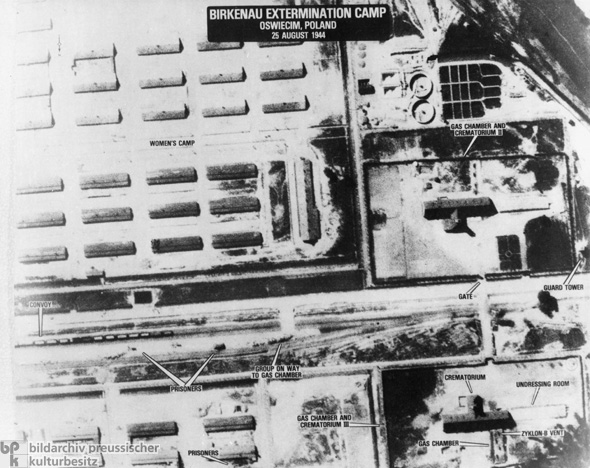 48.
Airtight Containers of Crystals for the Poison Gas Zyklon B, Intended for Use at Auschwitz (c. 1942-1945)
The poison gas Zyklon B, now the symbol of industrial mass murder, was used mainly in the gas chambers at Auschwitz....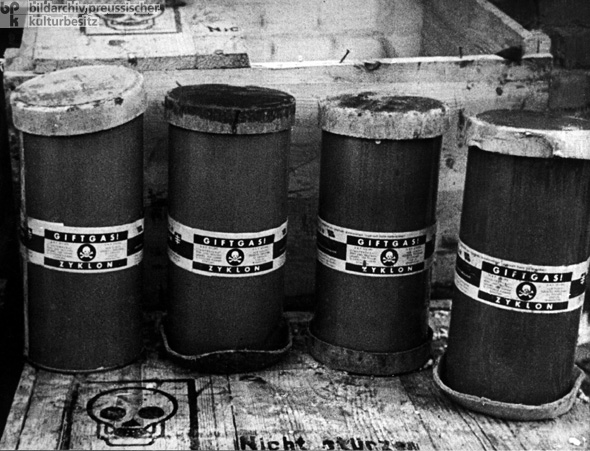 49.
Mountain of Shoes belonging to Murdered Jewish Prisoners at the Lublin-Majdanek Concentration and Extermination Camp (1944)
In July 1941, after Germany attacked the Soviet Union, Heinrich Himmler visited the town of Lublin (Poland) and ordered a prisoner of war camp to be built there. In November 1941, work began on the....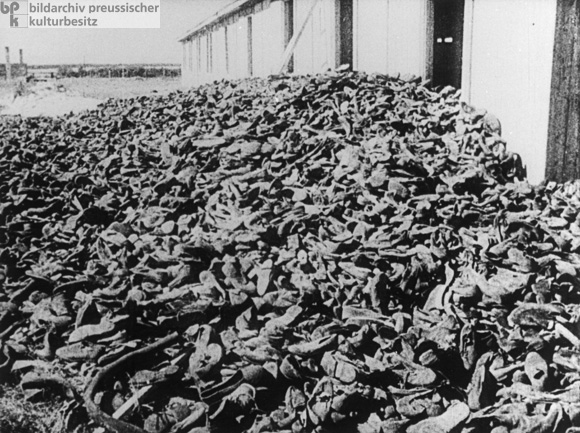 50.
Liberation from Auschwitz (January 27, 1945)
Following Himmler's orders to obliterate all traces of mass killings, the SS began dismantling the gas chambers in Auschwitz and tearing down its crematoria in late October and early November 1944....