11.
The Founding of the German Democratic Republic (October 7, 1949)
In the Soviet occupation zone, the People's Congress movement was organized in parallel with the constitutional and political discussions that led to the establishment of the Federal Republic. It....
12.
Wilhelm Pieck Giving a Speech at Friedrichstadt-Palast in East Berlin (c. 1950)
On October 11, 1949, Wilhelm Pieck (seen here in front of a picture of Stalin) was elected the first president of the GDR by the Provisional People's Parliament [Provisorische Volkskammer]....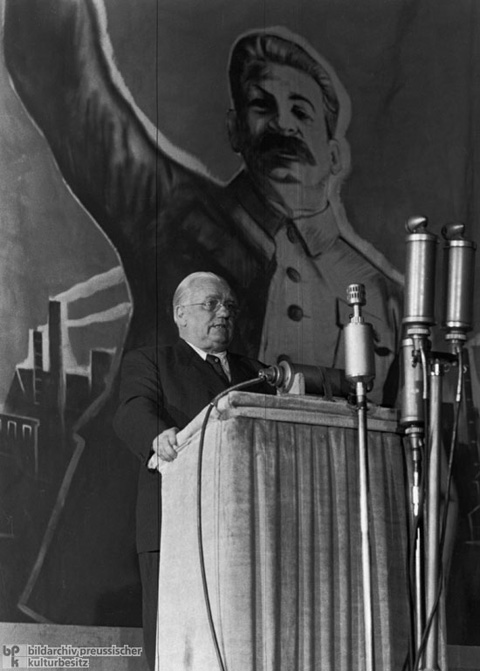 13.
Theodor Heuss Arrives for an Inspection of the Hamburg Harbor (1950)
Removed from the daily business of politics – for which the patriarchal Adenauer, a pragmatic, power-oriented politician, was responsible – the first president of the Federal Republic, Theodor Heuss,....
14.
Celebrating the "Miracle of Bern": Soccer World Cup (July 4, 1954)
West Germany's unexpected 3:2 victory over the favored Hungarians in the World Cup final in Bern, Switzerland, on July 4, 1954, unleashed waves of jubilation in the Federal Republic and soon became....