1.
Rounds in the Sick Ward (c. 1680)
This engraving shows a doctor during his rounds in the sick ward. The banner at the top of the image reads, "The patient ought to trust in God … Count on His help … and thus he shall behold miracles."....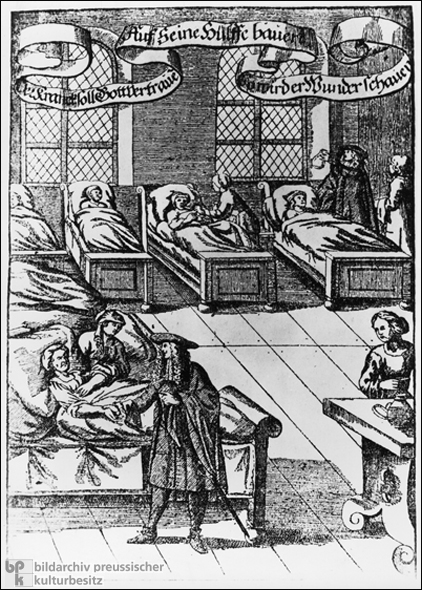 2.
The Barber-Surgeon (1698)
Bathers provided a range of services in early modern Europe. They administered water and steam baths and served as hairdressers to clients of municipally owned bathhouses. Beyond that, they performed....
3.
An Anatomy Lesson (1750)
This illustration shows an anatomist dissecting a corpse before students in a medical theater. The study of anatomy dates back to antiquity and made great gains during the Renaissance, thanks to....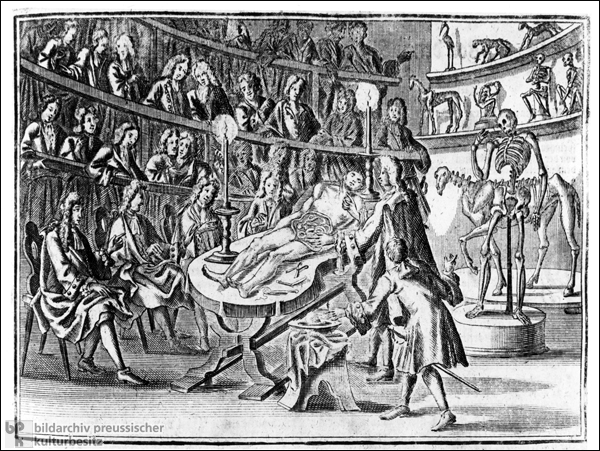 4.
Preparing and Dispensing Medications in an Apothecary (1750)
As early as the Middle Ages, apothecaries had risen from peddlers who sold cures and spices to wealthy patricians who produced their own medications. This illustration shows medications being prepared....
5.
Cycle of Human Beauty (c. 1750)
Entitled Cycle of Human Beauty [Zirckel der menschlichen Schönheit], this engraving is a variation on the conventional portrayal of life as a process of ascent and descent. The accompanying....
6.
Cycle of Human Ages (c. 1750)
The male counterpart to the previous engraving, this image is entitled Cycle of Human Ages [Zirckel....
7.
Smallpox Vaccination (1807)
Smallpox was a deadly epidemic disease that raged sporadically in early modern Europe. But great progress was made in the fight against this disease after British physician Edward Jenner (1749-1823)....