View of the Reichstag Ruins (1946)
View over the Spree River towards the destroyed north and west façades of the Reichstag building. The Reichstag was built between 1884 and 1894 according to architect Paul Wallot's (1841-1912) design. It functioned as the seat of Parliament (the Bundestag) between 1894 and 1933. The building was the target of an arson attempt in 1933 and suffered extensive additional damage during the Second World War. It was first rebuilt in the 1960s. After German reunification, the Reichstag underwent extensive renovations by the firm of British architect Norman Foster. As part of this work, a glass cupola was built to replace the damaged one shown here. The Bundestag returned to the Reichstag in 1999.
Berlin, 1946. Print from original negative.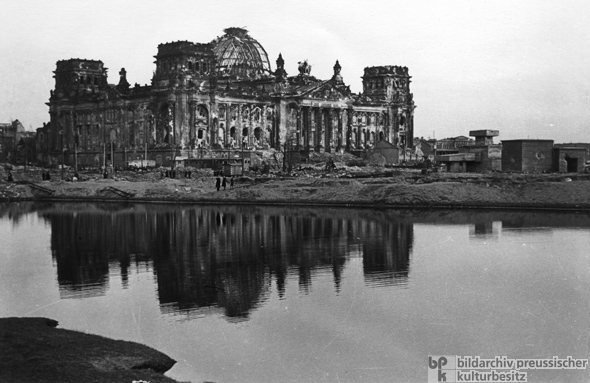 © Bildarchiv Preußischer Kulturbesitz