First Cabinet under Adolf Hitler (January 30, 1933)
Only two Nazi party members joined the cabinet that formed immediately after Hitler took the oath of office: Wilhelm Frick (1877-1946) was named Reich Interior Minister, and Hermann Göring (1893-1946) was named Reich Minister without Portfolio and acting Prussian Minister of the Interior. Franz von Papen (1879-1969), who enjoyed close ties to other cabinet members and to President Hindenburg, fully believed that he would be able to control Hitler from his post as Vice-Chancellor.
Sitting (left to right) Hermann Göring, Adolf Hitler, Franz von Papen. Standing (left to right) Franz Seldte, Günther Gereke, Lutz Graf Schwerin von Krosigk, Wilhelm Frick, Werner von Blomberg, Alfred Hugenberg.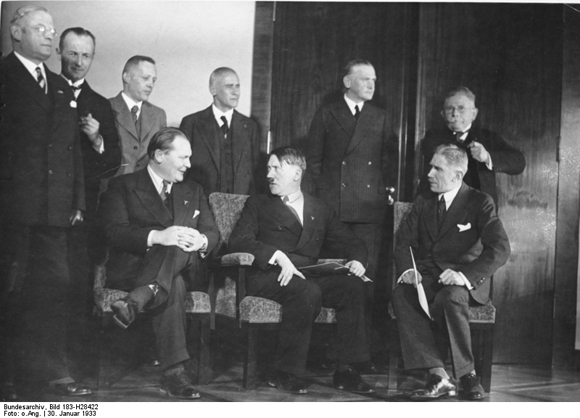 © Bundesarchiv