Palace Square [Schlossplatz] in Berlin before and after the Destruction of the Palace of the Republic (October 24 and December 2, 2008)
The Palace of the Republic opened on April 23, 1976, after three years of construction. Located in the center of Berlin, this striking structure housed the East German People's Parliament [Volkskammer], hosted the conventions of the Socialist Unity Party (SED), and served as a concert venue. Its thirteen restaurants offered a total of 1,500 seats. According to official figures, by September 1990, roughly 70 million people had visited this landmark.
Despite its many ironic epithets – such as "Ballast of the Republic" (a play on the German word for palace, Palast) and "Erich's Lamp Shop" (an allusion to East German leader Erich Honecker and the building's 1,000 ball-shaped ceiling lamps) – the palace became a central site of GDR remembrance. On September 19, 1990, the building was closed on account of asbestos contamination; decontamination work first began in the fall of 1998. In August 1992, an association was founded to rebuild the Palace of the Hohenzollerns, which had once stood on the site of the Palace of the Republic. (The Hohenzollern Palace had been torn down in 1950). On July 4, 2002, the Bundestag passed a motion to rebuild the Hohenzollern Palace. The decision was based on a recommendation from the international "Historical Center of Berlin" Commission, which had been appointed by the Berlin Senate and the federal government. The remains of the Palace of the Republic were torn down between January 2006 and December 2008.
This photo shows Palace Square [Schlossplatz, formerly Marx-Engels-Square] and the Palace of the Republic before and after demolition. Photo: Andreas Altwein/Arno Burgi.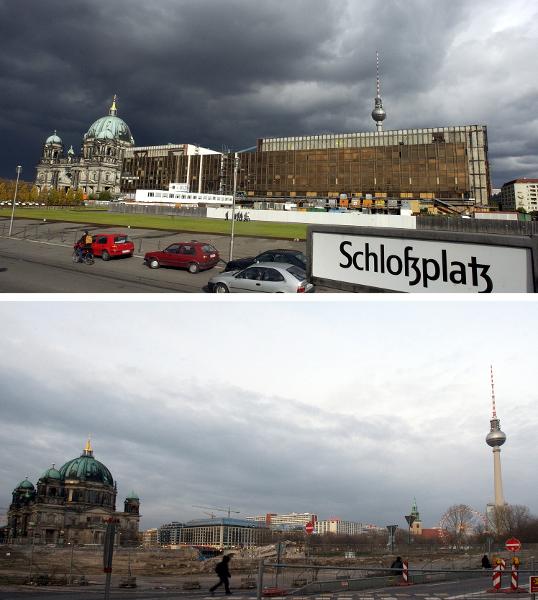 picture-alliance/dpa
(c) dpa