The First Group of Soldiers from the East German National People's Army is Sworn into the Bundeswehr (October 19, 1990)
As agreed on in an appendix to the Unification Treaty, the soldiers of the former National People's Army [National Volksarmee or NVA] became Bundeswehr soldiers upon the unification of the two German states on October 3, 1990; the National People's Army was thereby disbanded. At the time of its dissolution, the NVA had almost 89,000 men (roughly 50,000 of whom were regular and career soldiers) under its command. After a transitional period, 18,000 former NVA soldiers were selected by the Federal Defense Ministry to serve initial two-year terms in the Bundeswehr; about 11,000 of these soldiers were retained on a long-term basis. Higher-ranking officers of the former NVA were not accepted into the Bundeswehr; it was feared that their political proximity to the SED leadership remained too close.
On October 19, 1990, 250 recruits from the former National People's Army took the Bundeswehr oath of allegiance, in the presence of Federal Defense Minister Gerhard Stoltenberg, in Bad Salzungen, in Thuringia. It was the Bundeswehr's first public swearing-in ceremony in East Germany. Photographer: Frank Kleefeldt.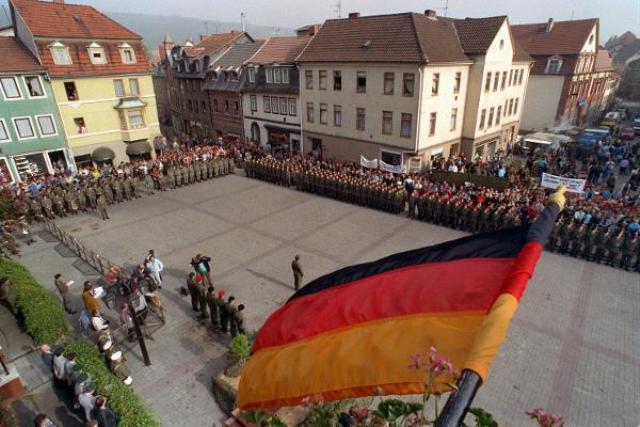 picture-alliance / dpa
(c) dpa – Bildarchiv
Photographer: Frank Kleefeldt