"The World of the Woman" Exhibition in East Berlin (September 1956)
Although women's equality in the GDR was enshrined in law in 1950, traditional gender roles changed little at first. This photograph from the 1956 exhibition "The World of the Woman" and the accompanying commentary made clear that women in the GDR in the 1950s were still primarily understood as housewives and mothers.
The caption reads: "The large number of visitors to the exhibition 'The World of the Woman' in the German Sports Hall in Berlin – up to now, well in excess of 10,000 people have been counted – proves that there are very interesting things to see here. In addition to many new innovations that have made life easier for housewives, and have made evenings more pleasant and more comfortable for the gainfully employed, the exhibition features room furnishings that every participant in the grand raffle on the 7th anniversary of the GDR is eligible to win. In the photograph: these space-saving and function-oriented kitchen furnishings will be offered as the grand prize in the grand rally. The built-in bread-cutting machine will be welcomed not only by women with children – it will spell relief for all women as well."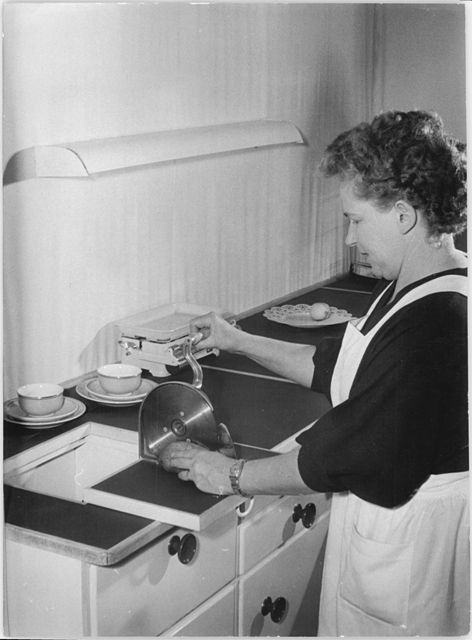 © Bundesarchiv
Bild 183-41465-0003, photographer: Rudolf Hesse, Mihatsch